A Digraph consists of two-letter which make a single sound or phoneme. A digraph consists of vowels or consonants. Like for example,/oa/ in Coat or Toad. There are two types of digraph, i.e., Consonant and Vowel Digraphs. Consonant Digraph is formed by two consonant letters that make a single sound. For example,/ng/ as in wing, king. Next, We will discuss ng words in detail.
1.ng Sound Digraph
Here we are going to learn about a consonant digraph. In this digraph, two letters, i.e., n and g, mix and make a single sound or phoneme /ng/.
2.Example of ng Digraph Words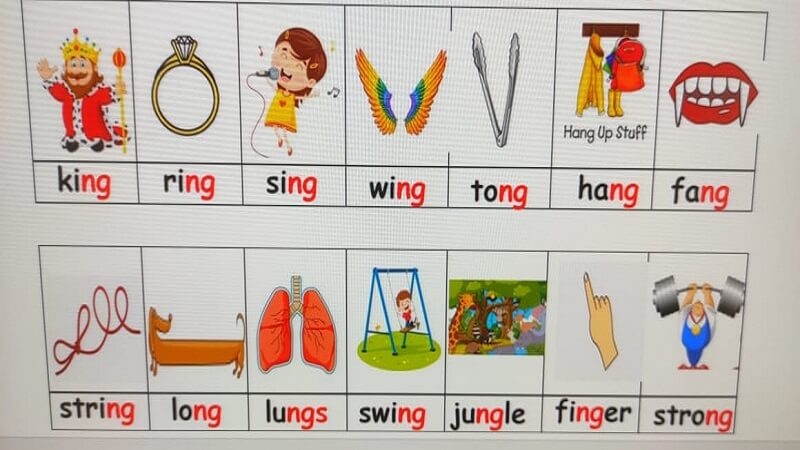 Some of the words having this digraph are as follows:
King
Wing
Ring
Sing
Lung
Song
String
Hang
Swing
3.Fun And Hands-On Ways To Learn ng Digraph
 In this article, We will discuss various fun ways to learn ng digraph using fun-filled activities:
4.Using The Objects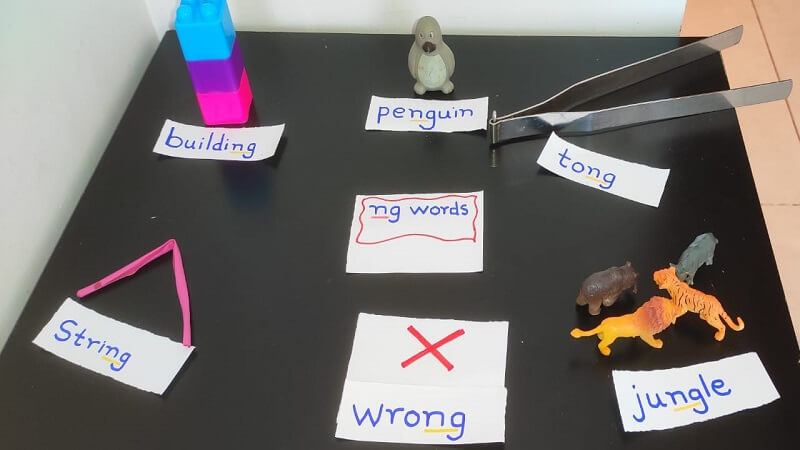 Let your kids see all the objects and things in front of them. Please keep all the items related to ng words in front of your children and let them explore. Try to extract what they are thinking about the objects in front of them?
5.Let Them Spell Using Phonics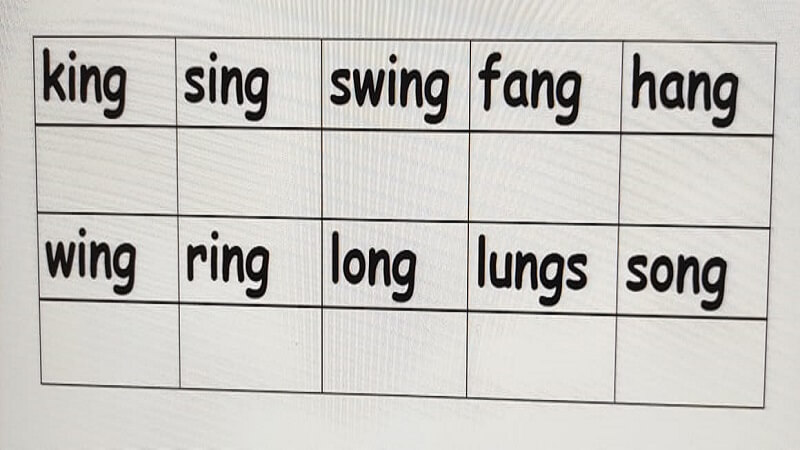 Parents can let their kids recall the objects or things they have seen just now. Let them spell out around using phonics. They will try to explore many new ng words using ng digraph, such as building, strong. Parents or teachers can introduce new words by giving hints and asking questions. Let them think on their own.
6.Sensory Play Helps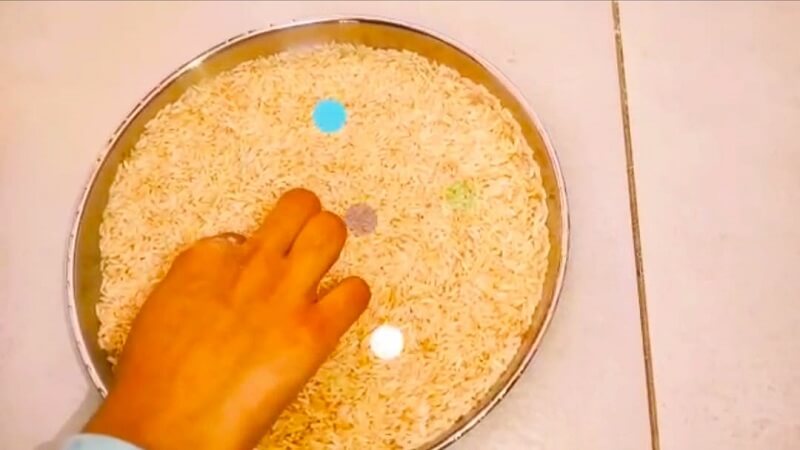 Sensory play can prove to be magical for you in the learning process for your child. They enjoy doing a sensory play. Here, simultaneously kids are learning new words and phonemes. Let them be free and sense the props placed. You can give them flour, rice, or sand to trace ng words using their imagination skills. This helps in developing fine and gross motor skills. In this activity, children use their eyes to see and hands to touch.
7.Fill In The Blanks For ng Words.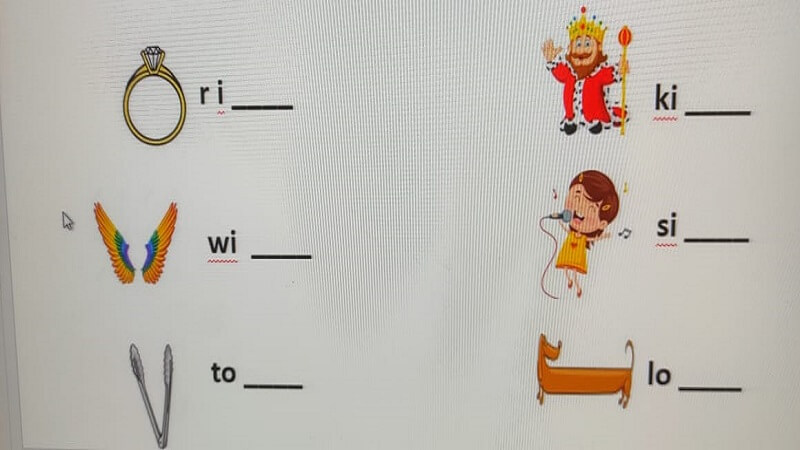 Parents can give their child partial words with spaces in between to be filled by their kindergartner. Give ample time to think and fill. Make sure you are sticking to the ng digraph.
8.Frame Simple Sentences With ng Words
Parents should encourage their children to write as per their age requirements. Kindergartners can frame simple sentences using ng words. The teacher can give simple words to frame sentences. Let kids wear their thinking cap and try to make sentences on their own.
Find Out Exciting And Fun Ways To Teach oo Words With Short /oo/ Sound.
9.Reading Story Is Magical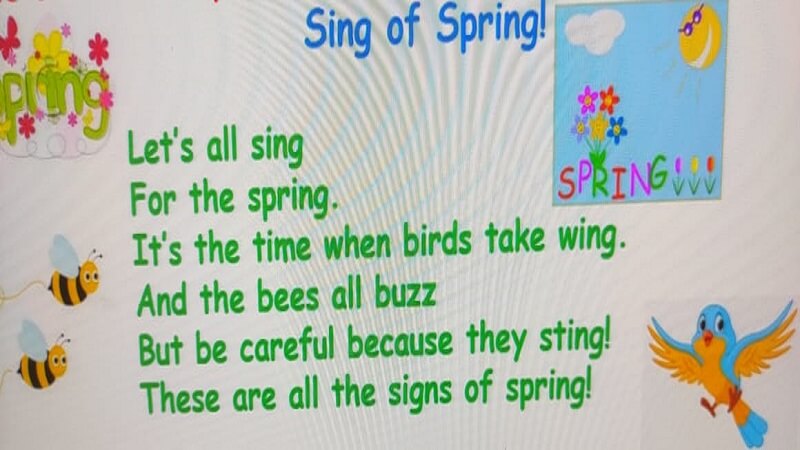 You can explore a short story using ng words. Parents can always support their children to read, read, and read. You can select a concise story to start building habits, followed by focusing on the discussed related story. Read with your child in the comfy reading corner. Once kids are comfortable, encourage them to make a short story using ng words. You can always prompt them to give clues and picture ideas.
10.Doing Art Activity with ng Words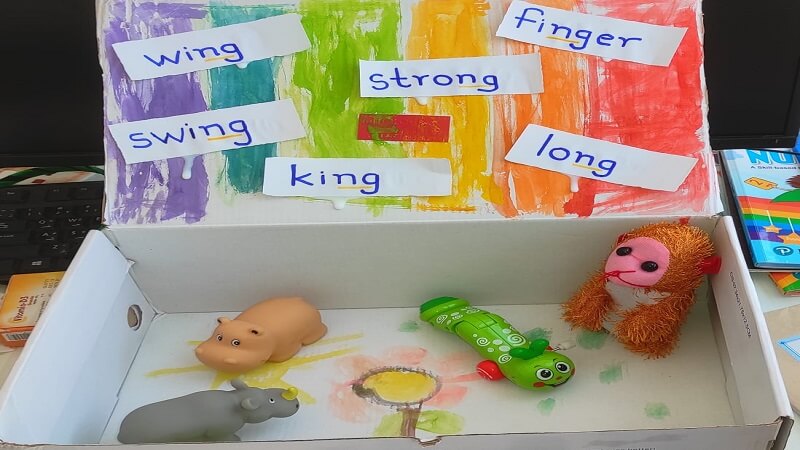 I, with the help of my child, used our imagination to make the learning of ng words fun and interesting. We made jungle out of a waste shoe box. We stick the words all over the jungle. My child loves to explore all around the jungle. She researches and tries to spell and read some words in the jungle. On top of it, cheery on the cake was the surprise sentence she made using strong. Top 10 Easy, Relaxing, And Engaging Activities For Kids They Love To Do.
Happy Fun Learning!
So, Here is all about ng words. This is how my child and I love to make learning fun. These are the hands-on activities initiated by me for my child to learn ng words. Please feel free to share your experiences with digraph and learning. And let me know about the feedback about the above-discussed learning in the comment box below.
Also Read: Find Out Simple Ways To Teach Number Bond To Kindergarten Kids
Follow Us: Facebook | Instagram | Twitter | Youtube | Pinterest