So, we are here back again with a bang again on our most popular section on Learning with Us at Tinydale! How to teach ph words?
Guess What? We are here with a new digraph i.e. ph Words for kids and its lesson plan.
In this lesson, plan kids will be able to recognize and identify the /ph/ digraph and the words with ph at the beginning and words with ph at the end.
So, What are we waiting for? Your Friend Tinydale is here to take you on an amazing journey. Let us begin :
Before that please don't forget to 
Follow Us: Facebook | Instagram | Twitter | Youtube | Pinterest
Before proceeding with the lesson plan let us have a:
Question And Answer Round
Q. What are some ph words?
Some of the words are as follows:
phone
phobia
phonics
photo
photoshoot
What are words that begin with ph?
Some of the words that begin with ph are as follows:
Phone
Phase
Photo
Phony.
Phlegm
Phonic
Phobic
What is a 5 letter word with ph?
phizz.
qophs.
phlox.
humph.
lymph.
Do any 5 letter words end in ph?
Yes Indeed it does some are as follows:
ralph
Saiph
staph
sumph
staph
What word ends in ph?
epigraph
cenotaph
biomorph
anaglyph
harrumph
triglyph
isomorph
trimorph
myograph
trigraph
odograph
subgraph
digraph
isograph
neomorph
For a detailed list go check it out here.
Let us begin with the lesson plan now.
1. Introducing ph words for kids
You can start by introducing that we are going to learn more about consonant blends today and a new grapheme. In today's lesson, we will discuss 2 consonants i.e. p and h when come together to make a single sound known as a consonant digraph /ph/.
You can even recall the digraph we have done before to brush up:
2. ph Words With Pictures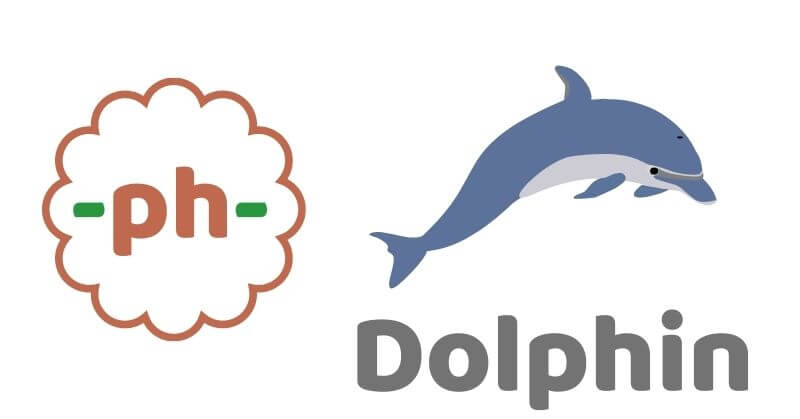 In the next step. Try to bring up the picture cards. That works very well with kids of all ages. Especially small children love visual learning.
You can simply start by showing the picture cards to the children one by one. And let them guess the name of the things or objects shown on the picture card.
Such as you can begin with the Dolphin picture and let them guess. If they need clues you can give clues such as which we sit on it while we study and so on.
3.  ph Words That Sound Like f
Now let us learn about what sound does ph digraph makes? The grapheme ph makes the sound f. It is as simple as that.
It is a simple sound similar to 'f' and 'ff'.To make practice the /f/ sound, put the top teeth onto the bottom lip of the mouth and blow out some air.
Now let them know when you blend these two letters together it gives us a brand new sound i.e. /f/.In this way, you can start practicing ph words phonics. You can repeat this phase in different voices with ph examples such as:
phone
physics
pharmacy
dolphin
elephant
4. ph Tongue Twister Game
First, rules should be explained by the teacher to all children. And then give the tongue twister to all kids in the class
I'm not a pheasant plucker, I'm the pheasant plucker's son,
And I'm only plucking pheasants until the pheasant pluckers come.
Let the kids listen to the tongue twister clearly. Children love tongue twister and here learning happens in a fun way with the ph tongue twister game.
Let all the children get the turn one by one. The child said it correctly without stopping wins the game of pheasant plucker.
5. Tell The Name With ph Sound Game
In this game, all children have to participate. You have to first explain the game to the children. The child who says the name with ph sound first is the winner of the game.
This is a quick and easy game that requires no prior planning and even no material preparation. Some of the examples of names are as follow:
Christopher
Stephen
Phillip
6.  ph Words For Kindergarten
For enrichment kids, you can give them a sheet of paper and let them frame sentences with ph digraph.
For gifted ones, you can let them write the words starting with ph and ending with ph.
For support let them say aloud the words with ph.
7.  ph Words List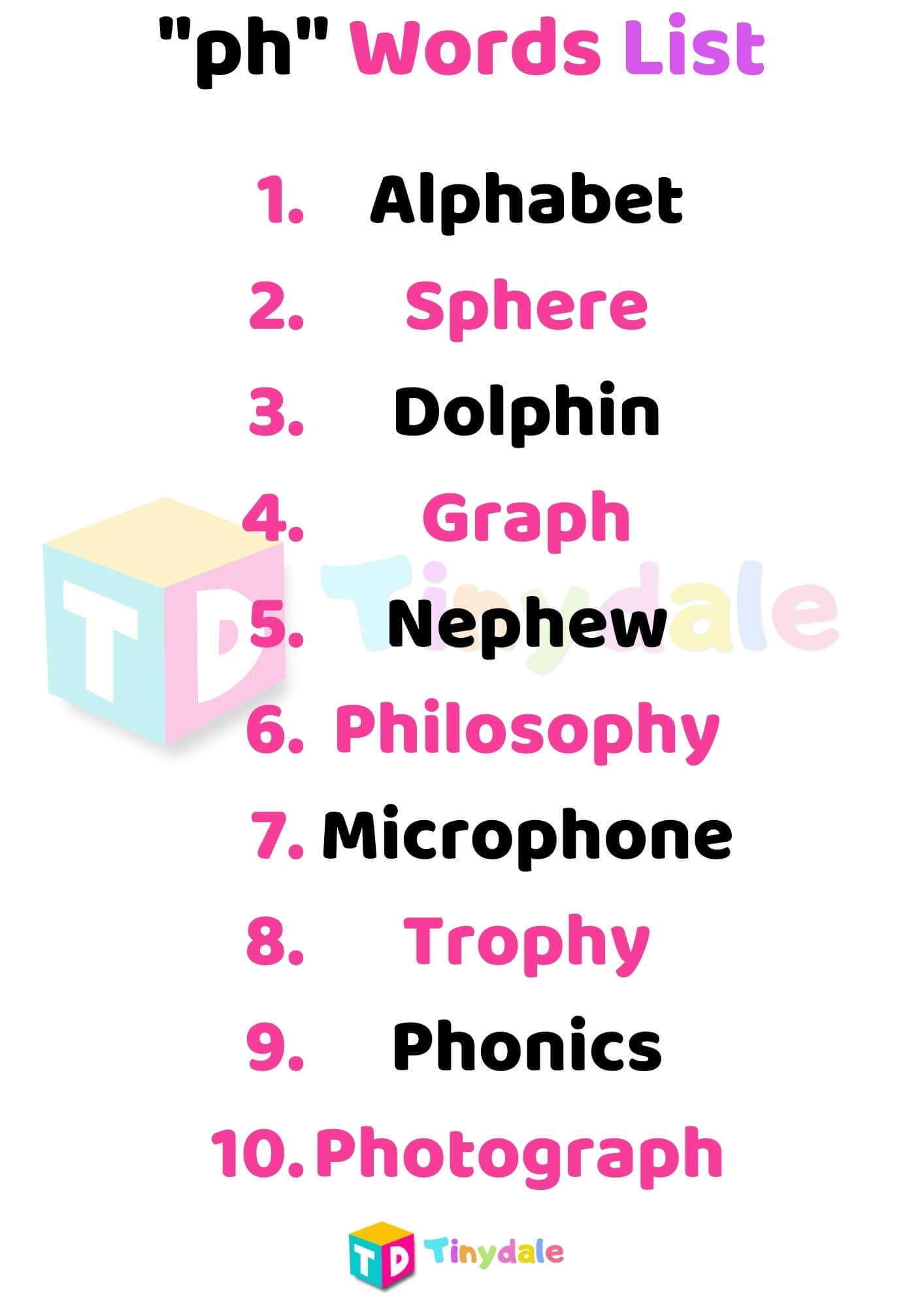 Let us have a look at the ph digraphs and the words list and say aloud and let the children repeat all over again in chorus.
8. Phil Is On The Phone Story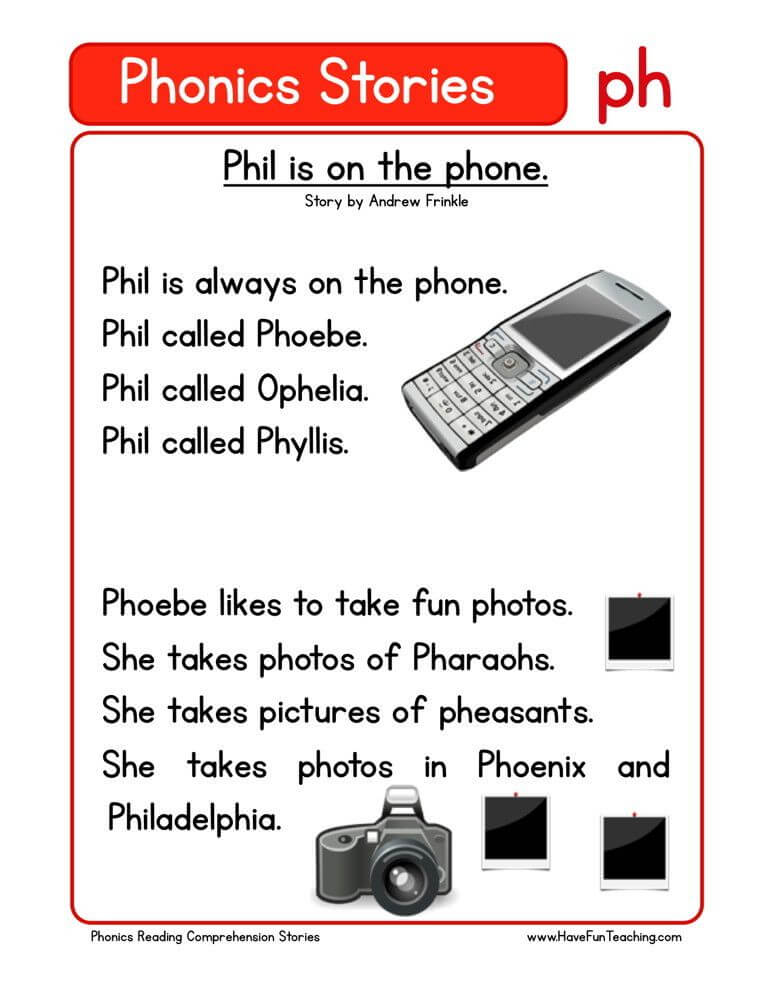 Reading aloud a story with ph digraph words is a marvelous idea. You can read the story of Phil is on the Phone all over again and let them know it is around the grapheme we are learning today.
I love to read Phil is on the Phone story with my little ones in the class.
After reading you can ask them which grapheme they can listen to most often in the story. Let the children learn about the words containing ph is coming in the story.
9. ph Words For First Grade – 1 Minute Game
This is the one-minute ph-words phonics game for kids of all ages. All the children in the class can participate as per their ability and interest area in the game.
The lower ability has to underline the words beginning with the ph digraph in one minute.
The middle ability ones have to draw the words beginning with the ph digraph in one minute
The higher ability ones have to write as many names as they remember with the ph digraph.
The one who finishes first is the winner. The motive is not about winning or losing. It is all about building sportsman spirit in children. And overall make learning fun in every possible way for each and every child.
10.  Plenary – ph words scrabble
Revise the Digraph /ph/ for today with the Kids.
Give the chance to children to say as many words as they remember with ph spontaneously in the class itself after the lesson is done.
You can even practice the worksheets such as matching, guessing the word, etc.
You can also play the scrabble games with the kids in the class as the ending activity of the lesson.
Let them go home and find out the object with graphene they have studied today and bring them to the class the next day!
ph Words For Kids List
Now Let us learn the List of ph Words!
| | |
| --- | --- |
| Photo | Phobic |
| Physics | Phew |
| Pheasant | Physical |
| Phoenix | Pharao |
| Phobia | Photosynthesis |
| Physique | Photocopy |
| Physician | Phial |
| Phase | Photoset |
| Phage | Phone |
| Phantom | Phrase |
3 Letter Words Starting With Ph
4 Letter Words That Start With Ph
5 Letter Words Starting With Ph
6 Letter Words That Start With Ph
| | |
| --- | --- |
| Phlegm | Phonic |
| Phobic | Phenyl |
7 Letter Words That Start With Ph
| | |
| --- | --- |
| Pharynx | Phobias |
| Phablet | Phasing |
Words That End With Ph For Kids
| | |
| --- | --- |
| Micrograph | Photograph |
| Lymph | Morph |
| Auxotroph | Isomorph |
| Topograph | Glyph |
| Digraph | Choreograph |
| Autograph | Oomph |
| Graph | Caliph |
| Nymph | Ralph |
| Triumph | Biomorph |
| Paragraph | Neomorph |
Please feel free to share your experiences with digraphs and learning. You can get more of our simple lesson plans in the learning category. Do not forget to share your stories with us on mytinyda[email protected], If you would like to get featured on our platform.
Tinydale is on YouTube, Click here to subscribe for the latest videos and updates.