When we learn to read with our little one, what is blend in phonics? Definition of blending in phonics: The process of breaking the word based on their sound, then you join the phonic sounds to blend a word is known as blending. Blending Words sounds is one of the significant milestones in the journey of reading for your child.
Blending Words Examples
Start the process of blending gradually. start with 3-letter words. Let's say you start with CVC words.
They first look at the word. For example ten
The child will recognize and say the individual sound in the word as /t/,/e/,/n/.
Blend, i.e., join the sounds and try to spell /ten/
Finally, They will spell /ten/ with the help of sound blends.
Blending Words Activities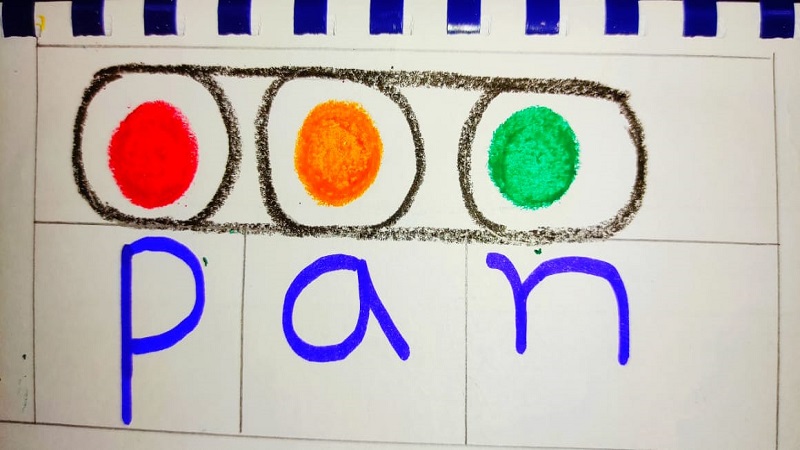 I do a reading activity using arts with my children. I write a three-letter word on the paper. Here use the traffic signal colors:
Red represents the beginning sound.
Orange represents the middle sound.
Green represents the ending sound. This can also be played as a blending words games.
Learn Blending For Little ones
We will start with CVC words for kindergartners.
Write CVC words on board or paper.
Let them first look out the words closely.
After observing, kids will try to decode the sounds.
They will recall the phonic sounds.
They will say aloud the first two sounds in words separately.
The third sound is a surprise which they will reveal.
And, gradually, they will blend the sounds to read a word.
This activity I have done with my child. You can have a look.
Tips To Make Blending Words Learning Fun For Children
It is one of the crucial parts to decode and read the word correctly using phonics sounds. Ask your kids to read words whenever possible. Read the words in the book, tv, and in papers, or anywhere else. Tell them to decode and blend the sound to form words. Some magical tips and tricks which help my child to make blends fun and to read are as follows:
Segmenting and blending are friends. So you have to work in collaboration to learn reading.
Awareness of the phonics sound is a must.
Your child should be fluent in phonemes.
Start blending with the very basic. Go gradual with the process.
Take to sounds first. Let your child blend two sounds.
Start with consonant digraphs first as they are a bit easy to start.
Then you can move to three sound blending ones; the child is comfortable in blending two sounds.
You can always support your child by proactively engaging in the activities assigned.
You can try cumulative blending with the children who are having trouble initially. Moving on from two sounds to three and so on. In this technique, the reader starts from the beginning sound after adding each sound.
Happy Blending Song
I love to sing this beautiful blend song to practice blending with my kids. These simple activities make the process of blending fun for my children. I would love to hear about the blending activities you do with your children. Don't forget to share your ideas in the comment box below. Happy Reading!
Also Read: These Are Interesting Hands-On Learning Activities For Your Children
Follow Us: Facebook | Instagram | Twitter | Youtube | Pinterest
Tinydale is on YouTube, Click here to subscribe for the latest videos and updates.