What is Maskne? Living in the COVID times has drastically changed our daily routines. We have seen huge lifestyle changes in the last several months during this pandemic, including travel, employment, social contacts, and, yes, mask-wearing! However, if you use the N95 mask daily, your skin will develop rashes, irritation, and inflammation as a result of clogged pores caused by moisture build-up. All of these might induce skin reactions, such as mask acne or maskne. The new trend is a mask girl. Maskne is a new trending face problem.
Don't Forget to Follow Us on:
Follow Us: Facebook | Instagram | Twitter | Youtube | Pinterest
Now let us try to understand maskne meaning. Maskne definition: It is a word created by combining the spellings of 'mask' and 'acne.' Maskne has emerged as one of the most serious adverse effects of the precautions taken to prevent the coronavirus from infecting the body.
What causes Maskne?
Maskne can happen in a variety of ways, including bumps, breakouts, pimples, irritation, redness, and more. Acne Mechanica is another name used for it. You can even check maskne pictures. Sometimes breakout face is also common.
Oil, germs, and dead cells are all present on the typical facial skin. When a mask is worn across the nose, mouth, chin, and jaw, these chemicals become even more clogged on pores, thereby blocking them from external respiration.
A mask also collects humidity from your breathing and sweating, perhaps increasing your acne risk.
Friction is another possible cause. Maskne is produced by repeated friction, rubbing, stretching, and squeezing on the skin's surface. It is also different from other types of acne in that it mostly affects the area where the mask rests against the face.
Maskne's Signs and Symptoms
During the early phases of the disease, you may notice symptoms such as:
Skin that is rough and bumpy (without visible bumps)
Rashes
Irritation and inflammation of the skin
Dry, scaly patches of skin
However, when your problem increases, you may observe the following:
Papules
Pustules
Comedones of varying sizes (bumps)
Maskne Spray
 Maskne Face Spray protects your skin from outbreaks caused by masks by offering antibacterial and anti-inflammatory substances. After a long day, give your face the refresh it deserves.
There are lots of maskne sprays available now in the market. Consult your doctor to choose the right one according to your problem and skin type.
 Maskne Treatment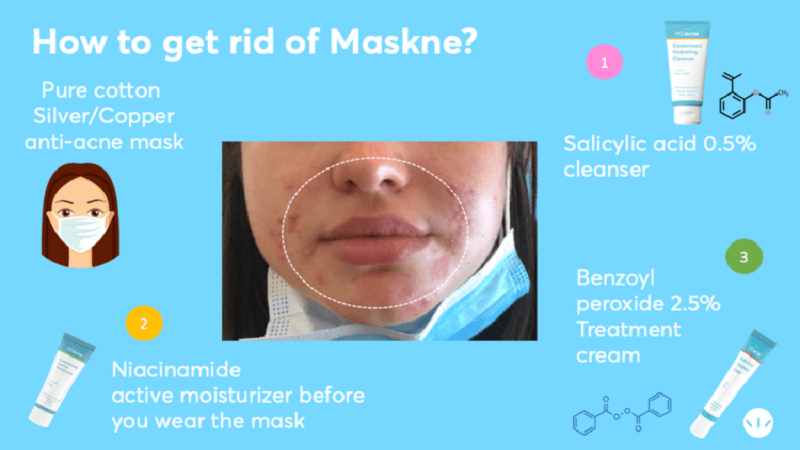 How to treat maskne? It is a trending question now a day. Even if you have a maskne, you must continue to put on a face mask. One of the greatest ways to protect yourself and others around you against COVID-19 is to keep your mouth and nose covered.
Maskne symptoms can be treated in a variety of methods. Let's have a look at all points and maskne skincare:
1. Wash your face regularly
To keep your skin healthy, stick to your regular skincare routine.
Washing your face:
Once in the morning
once at night
After sweating or wearing a mask,
Before retiring to bed
Use lukewarm water to wash your face. Use a clean towel, keep your skin dry. Avoid rubbing your skin because this can irritate it.
2. Make use of a mild cleanser
Excess oil, sweat, and bacteria can be removed with a moderate cleanser.
Cleansers containing alcohol or scent should be avoided. These components may irritate your skin and make it more difficult for your symptoms to heal.
3. Apply a non-comedogenic moisturizer to your skin
Apply a moisturizer after washing your face to keep your skin nourished. Use a non-comedogenic product to avoid clogging your pores.
4. Apply cortisone cream and ceramides-rich moisturizer
If your maskne is mostly caused by irritation and raw skin, you may choose to use a modest cortisone lotion in conjunction with a ceramide-rich moisturizer. This can aid in the protection of your skin as well as the relief of itching and irritation.
5. Take a break from your makeup routine.
Try to skin your makeup when wearing a mask or during mask time.
Maskne Treatment Home Remedies
 You can treat and prevent maskne at home as well. By just taking some precautions you can manage it at home easily. Here are natural home remedies to Get Rid of Your 'Maskne':
Drink Spearmint Tea.
Use a Turmeric and Yogurt Mask.
Wash your face with a homemade face wash.
You can try to reduce skin problems with 2-Ingredient Facemask
Steam your face.
Apply aloe vera to moisturize your skin.
Treat spots with tea tree oil.
Do not Sweat It
Now to find a new mask to maintain your skin happy and healthy. We recommend a 100% cotton mask that does not cling to your face too firmly.
 How to Prevent Maskne?
Because you'll most likely need to wear a face mask in public for the foreseeable future, these  10+ maskne prevention tips may be useful.
Put On a Fresh Mask
Wash fabric mask after each use
Every 4 hours, remove your mask.
After each use, toss the disposable masks.
Choose the right mask.
Maintain a Basic Skin Care Routine
Apply an antibiotic lotion to the affected area.
Before putting on a mask, hydrate your skin.
Use Detergents that are not Fragrant
Avoid tight mask
Things that rub against the skin should be avoided.
After using a mask, take a shower or wash your face.
Follow up with your dermatologist or healthcare physician if your maskne is more severe, or if it persists after trying these treatments.
This article is for general informational purposes only. It is not intended nor implied to be providing medical advice and is not a substitute for such advice. The reader should always consult a health care provider concerning any medical condition or treatment plan. Neither Tinydale.com nor the author assumes any responsibility or liability concerning the use of any information contained herein.
Tinydale is on YouTube, Click here to subscribe for the latest videos and updates.