Hello everyone Here we are at Tinydale with the easy teacher appreciation card ideas for our little ones with the help of how to make a simple paper airplane? As a student, we are always thankful for our dear teacher for their unconditional love and care.
So what are we waiting for? Are you excited to make a teacher appreciation card? In this blog, we have come up with a fresh and easy teacher appreciation week 2021 card idea. So let us begin…..
Before that please don't forget to 
Follow Us: Facebook | Instagram | Twitter | Youtube | Pinterest
Materials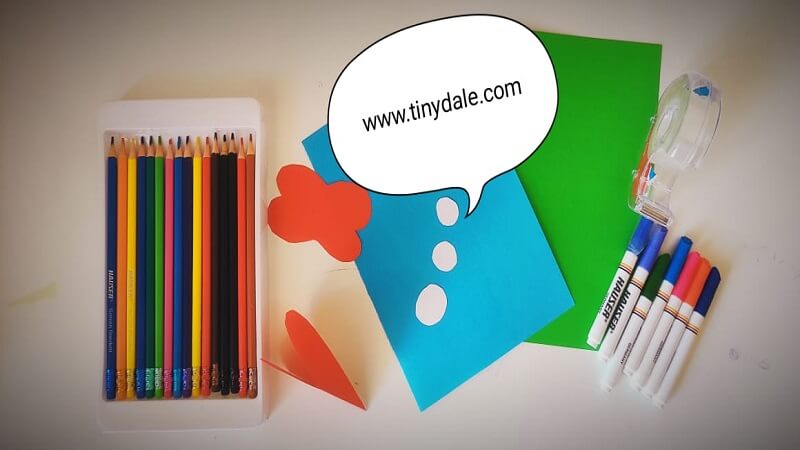 Here is what you will need for a how to make a paper airplane that flies for  handmade card for teacher:
Pencil
Colored Paper
Colored sketch pens /Crayons
Glue or Tape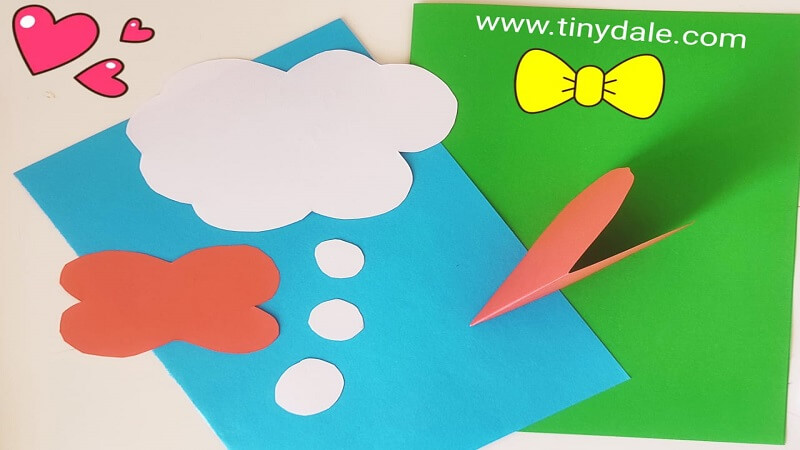 Instructions on How to make a paper airplane video and Teacher appreciation Card Ideas
Take a look at the first steps for how to make a paper airplane teachers day card art project:
Step 1: How to make airplane?
How to make a paper airplane fast? We will make in 3 easy steps as follows:
Take a paper and start folding it half as per the length and then 2 corners down.
then two top corners need to be folded to the center and then u have to fold like a mountain fold.
Try folding the wings downwards and all over again and simply fan out the wings and your paper airplane is ready to fly!
For detailed paper airplane instructions don't forget to watch our easy video for kids. We have used blue paper to make a paper airplane tutorial. You can use the favorite color of your choice.
Step 2 :
Cut out the following using safety scissors:
Cloud
Bow
Red heart
A4 size green paper for card template.
Step 3 :
Start sticking the cutouts with the help of glue or sellotape for a poppy look. First Begin with the bow.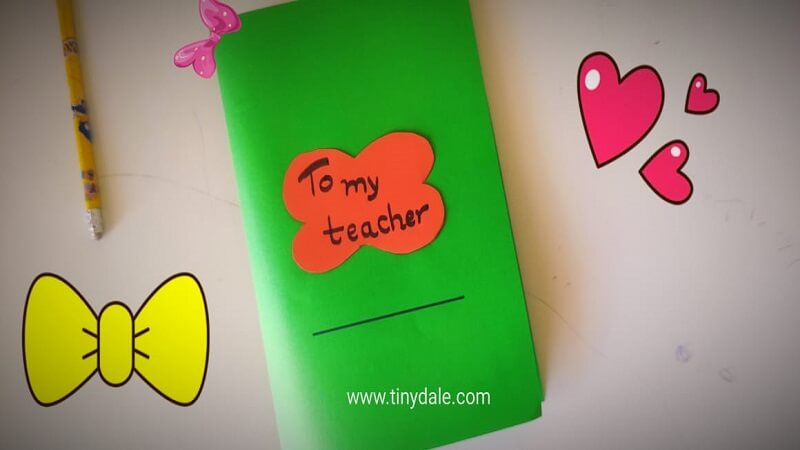 Second, you can stick the paper airplane on the right-hand side.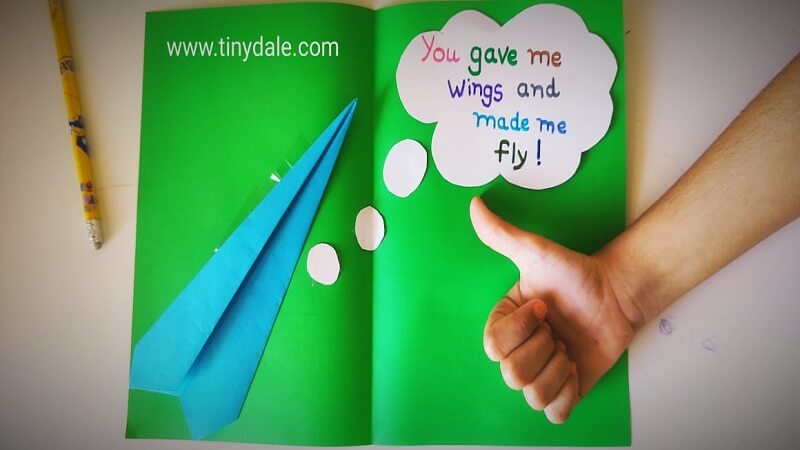 Thirdly you have to follow by sticking the cloud which says – "You gave me wings and made me fly!" ( This is the cute teacher appreciation note from the student).
Lastly, Finish off by sticking a beautiful heart that represents all the love from children to their teacher. You can simply write your name below or even the toddlers can stick their passport size photo in the middle of the heart.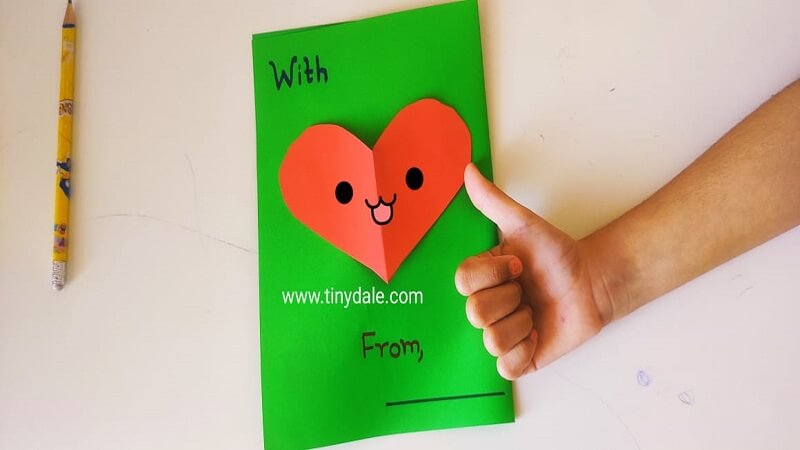 Happy Teacher Thank You, Card!
Here we are with the easy thank you card for the teacher in 3 easy steps. Hoping you will enjoy doing this simple kids' craft for their teacher in 2021 with your little learners! I am sure it's a very easy less preparation art activity which can be done at home with minimal materials. I hope you are part of our amazing group ColourCraze and Love Is Play-Based Learning to stay tuned with our latest posts and videos.
Pin this Teacher appreciation week 2021 card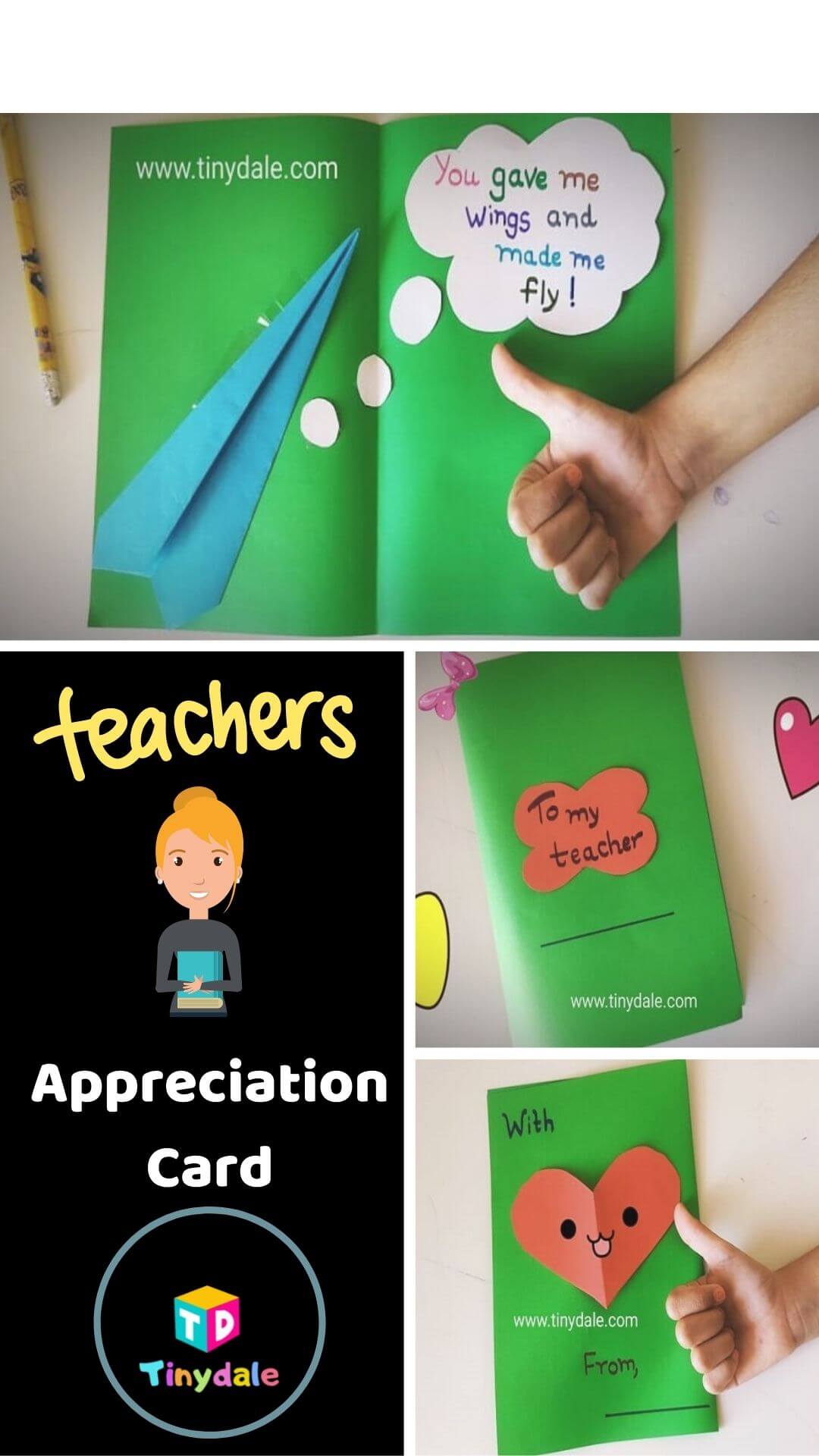 Don't forget to save this easy art for toddlers on Pinterest for later! Be sure you are following along with Tinydale here
You are free to check some of our other easy kid's crafts below:
Tinydale is on YouTube, Click here to subscribe for the latest videos and updates.