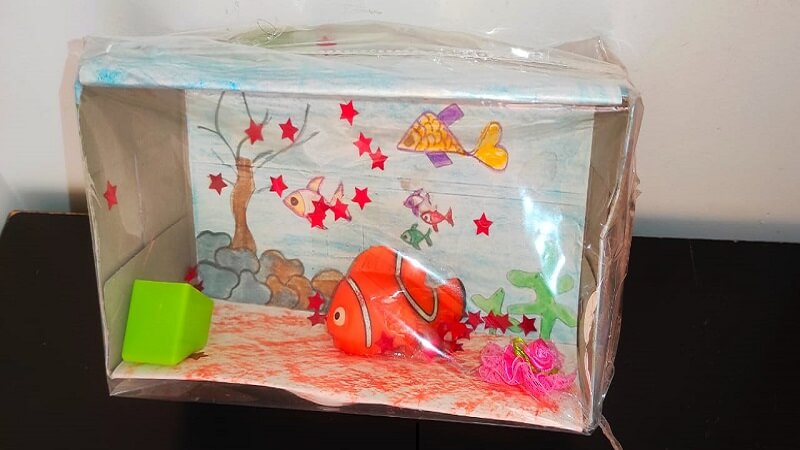 The aquarium is the home to aquatic animals and plants. It is the arrangement where animals and plants feel cozy to roam around. The aquarium should be transparent from at least one or two sides. So, We can closely observe what our little ones are doing if they are comfortable and happy. It should be spacious so living beings can move freely around. We should not hurt or trouble them. We should take care of and love the little beings the best possible way we can. Here we are with another art project to make aquarium craft out of waste tissue box.
Kids Excitement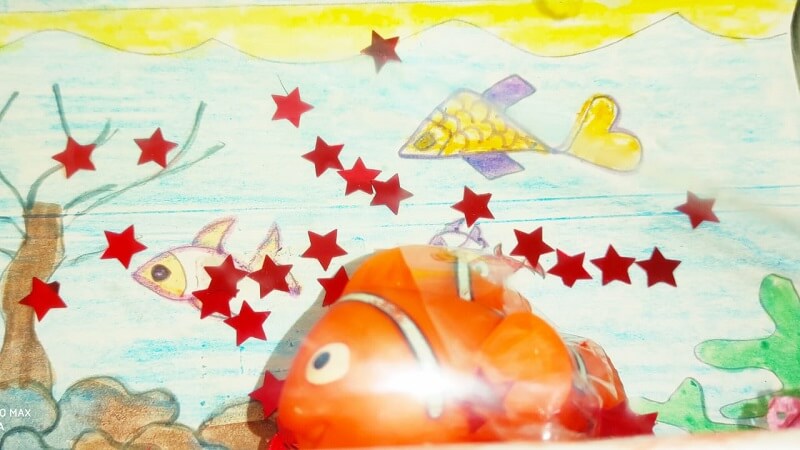 Children are very excited to see. When they see for the first time, they are quite amazed to see. They love to explore and observe. Toddlers and preschoolers love the movement of aquatic animals. Kids can share the activity and do teamwork with their siblings and friends. They see and think about the mechanism behind the aquarium. They wonder how things work on the aquarium. Do they even fantasize about how they can make an aquarium?
Making Aquarium Craft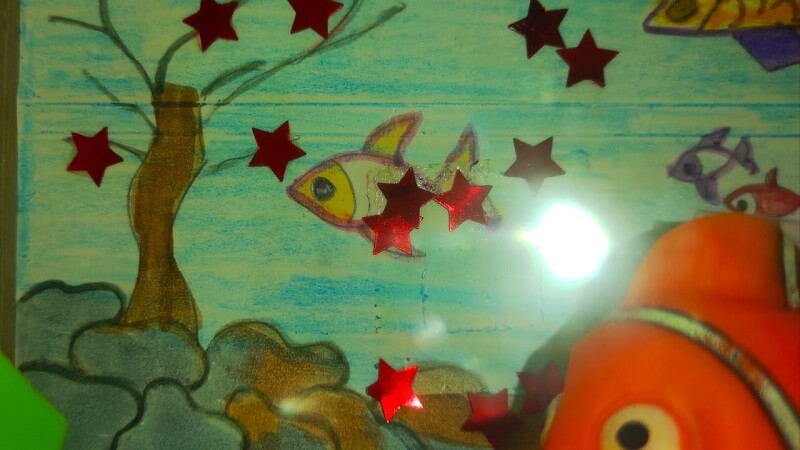 The wish of making an aquarium can come true. Kids, with the help of their parents or art teacher, can make a beautiful aquarium. Here I will discuss creating an aquarium focusing on the toddlers and preschoolers age group. Big kids can try this as well. Here, I am a big supporter of the best out of waste. I used all the waste products and minimum things.
Material Required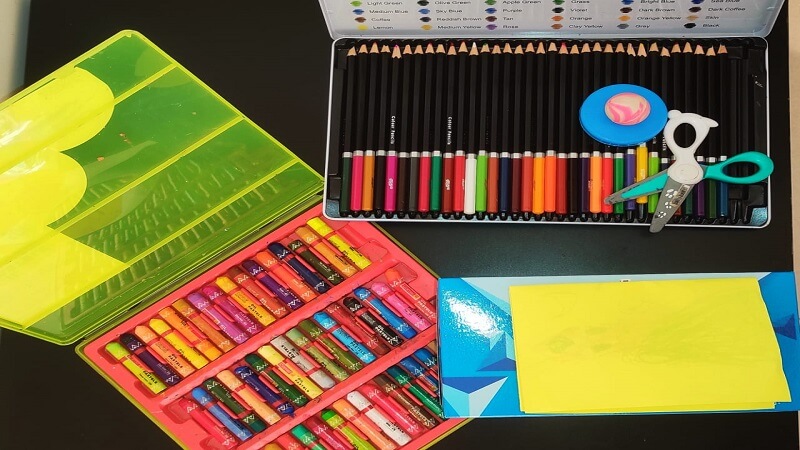 Tissue box.
Some glittery stars.
Old blocks.
Some old bath toys which your kids don't like to play with anymore.
Crayons
pencil in colors.
Some artificial /plastic flower plants out of old and used hairbands.
Transparent polythene.
Paper to make a base.
Glue gun
Glitters and stars to decorate.
Steps involved to Make An Aquarium Craft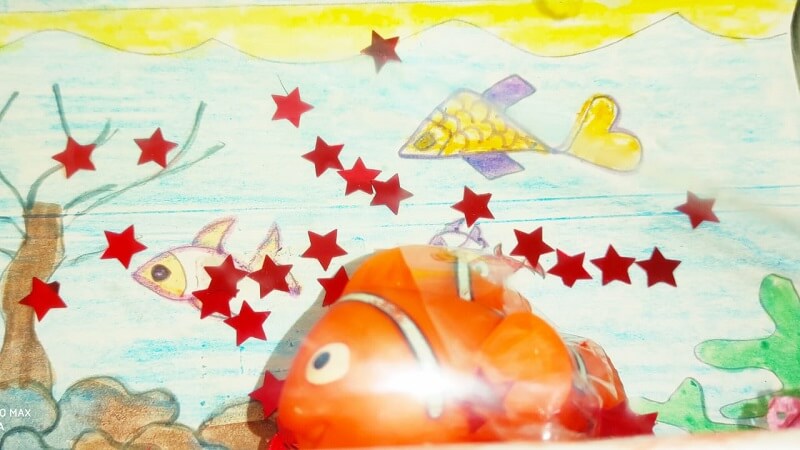 Necessary and easy steps involved for kids to make an aquarium are as follows:
Take a waste tissue box and clean it thoroughly inside out.
As it is rectangular. Take one part of the rectangle out.
You can use kids friendly scissors to cut one side to make the front side.
Take a piece of paper to make a background.
Let your kiddo the creativity part. Kids can showcase their free drawing and coloring skills now.
Guide the children and let them watch some videos related to the content and let them picture it out on a piece of paper.
Like for example, my child made the base with the brown color to depict sand .she showed some stones at the bottom with the help of a grey color. She draws and colored some beautiful aquatic plants. Lastly, She makes some beautiful tiny marine animals out of crayons.
We made a stationary aquarium. So, my child showed still water with the help of a shade of blue color all over.
Then you can stick all the blocks, Stickers, Starrs, some aquatic animals with the use of a glue gun to make your art look unique and beautiful.
Lastly, You can cover with the transparent clean polythene. Give the final finish.
Love For Art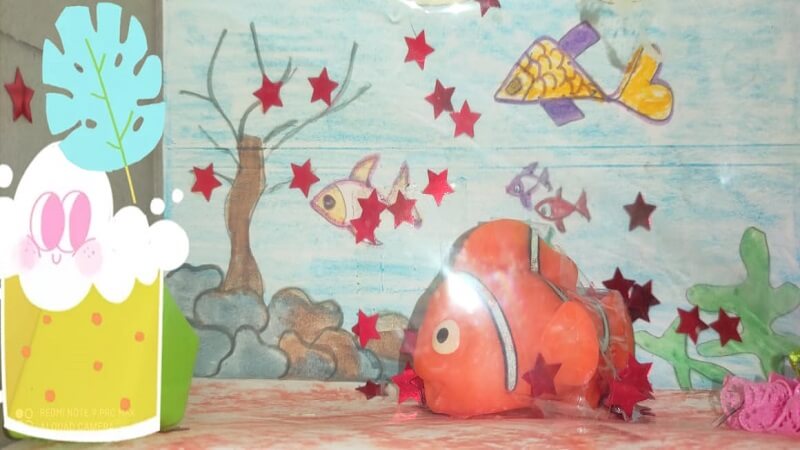 You are ready with the aquarium. Do you like this art and craft aquarium? Kids can keep it as a showcase. I am sure Children will love this art. Don't forget to share your aquarium art projects in the comment section below. You can try aquarium craft for preschool. You can even do shoe box fish aquarium craft instead of the waste tissue box. They will love to observe and explore. So, this is the easy craft and idea I utilized to make an aquarium. Please share your craft ideas on creating an aquarium in the comment box below. I would love to hear your thoughts.
Also Read: The Interesting Way To Teach Alphabets To Kids Find Out
Follow Us: Facebook | Instagram | Twitter | Youtube | Pinterest