Hello Everyone! Happy Republic Day to all our Readers! We are here again with amazing yet easy republic day craft ideas especially on the occasion of republic day. This easy and simple republic day craft activity can be done with preschoolers and Kindergartners as well.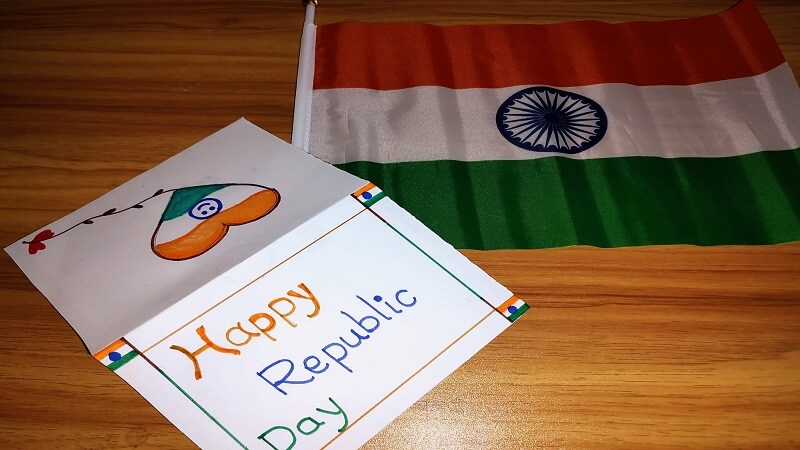 Before that please don't forget to 
Follow Us: Facebook | Instagram | Twitter | Youtube | Pinterest
Materials Required for Handmade Republic Day Craft
Here is what you will need for a republic day craft work for kids:
Pencil
White Paper
Oil pastels /Crayons
Tissue paper
Colored paper
Instructions to make Easy Flag Craft
Take a look at the first step by step tutorial for this how to make a republic day card step by step art project:
Step 1 :
Take a piece of white paper or A4 size paper. On the first page let the kids write Happy Republic Day using tricolor. On the middle part, Make the middle white paper cut in the rectangle shape as shown in the video.
Step 2 :
On the other white paper. Stick Saffron color paper cut out in the equal size of white. Same you can cut out green color. Stick Saffron above the white and Green strip of rectangle shape below the white.
Step 3 :
As you are done with the sticking part. The Indian flag is ready in the middle part. To give some real touch let there be a river flowing. The boat is holding that cute Indian flag. Here kids have come up with the beautiful scene of the river and a patriotic farmer having the boat with the Indian Flag hanging on the boat. It is showcasing the patriotism of the citizen.
Step 4 :
On the backside of the card, you can make an Indian flag heart by simply drawing the heart using a pencil and doing tricolor. Even you can make a heart balloon of Indian tricolors as shown in the video.
Step 5 :
And Our easy yet amazing republic day card is ready which can be done in class and with children of all ages. I hope you like our Indian flag craft. You can even use this as a republic day poster for school when you can make all these ideas on the same page.
Happy easy drawing of the Indian Flag Craft!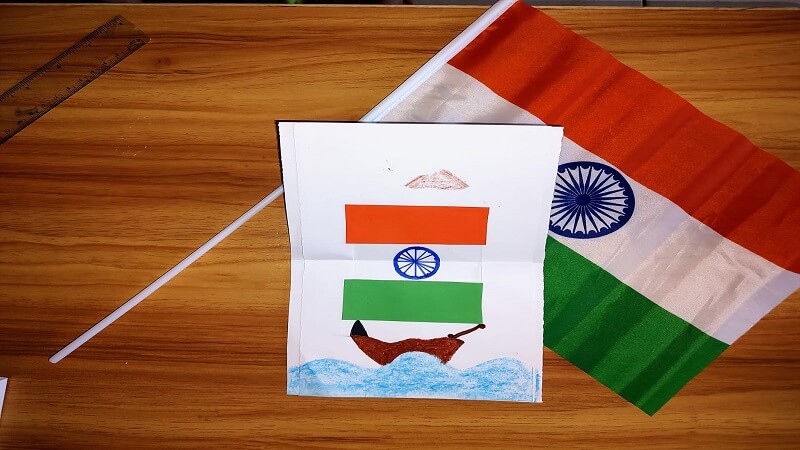 I hope you all will definitely try this simple art project with your little ones with minimum requirements. For details please follow the video above for more clarification on this easy art project. I hope you are part of our amazing group ColourCraze and Love Is Play-Based Learning to stay tuned with our latest posts and videos.
Pin this Republic Day Card!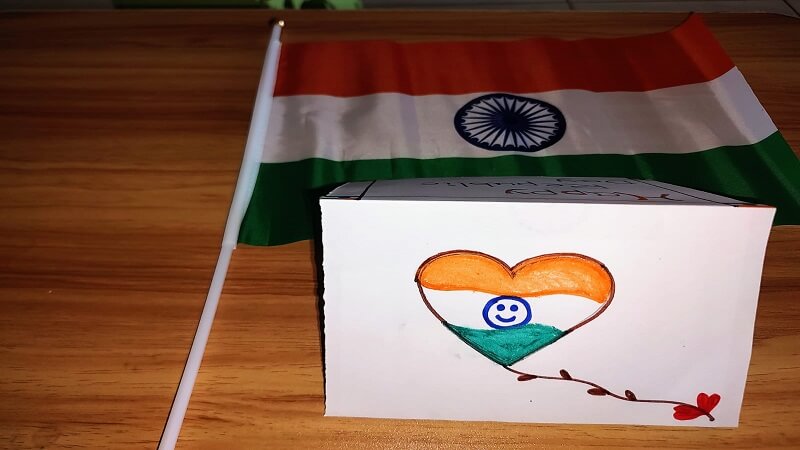 Don't forget to save this easy art for toddlers on Pinterest for later! Be sure you are following along with Tinydale here
Also Read: 5+ independence day drawing images Ideas in 2021 for Kids of All Ages!
Tinydale is on YouTube, Click here to subscribe for the latest videos and updates.