When is friendship day? It is all here sound and happy 🙂 As friendship day 2022 is already here. We are super excited as it is the right time to celebrate friendship. So, are our little ones and all the kids around. So we are here at tinydale with you again to share easy friendship card ideas for kids to gift for their friends on this occasion of friendship day with friendship day quotes.
Before that please don't forget to 
Follow Us: Facebook | Instagram | Twitter | Youtube | Pinterest
Materials – Friendship card ideas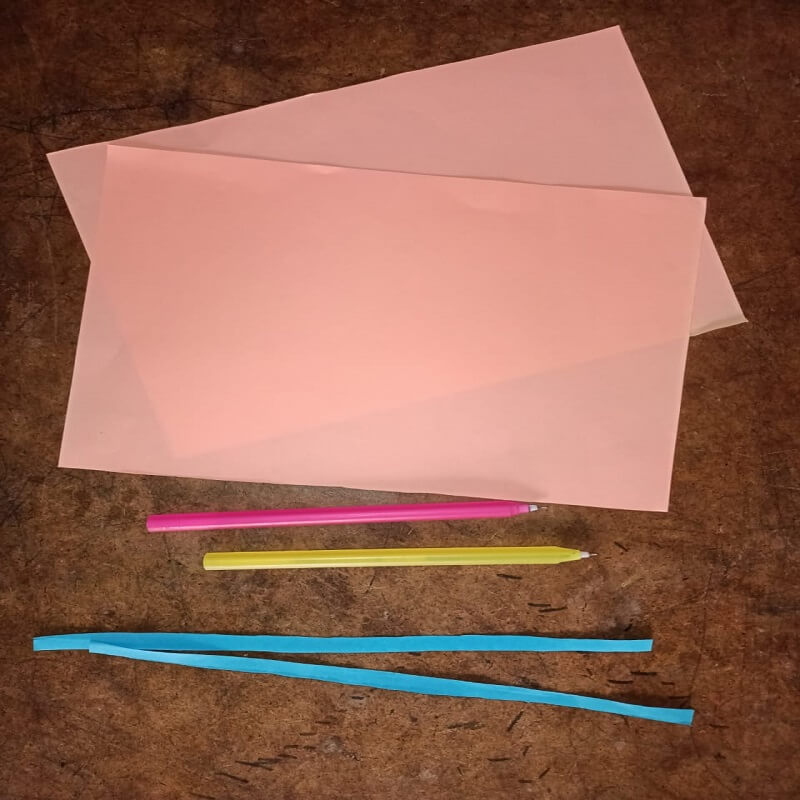 On this friendship day, we will make an easy yet very innovative scroll card for our dear friend with minimal materials such as:
Colored paper
Crayons/Coloured pens or markers
Glue
Safety scissors
Pencil
Instructions to make Friendship Scroll Card
Take a look at the first step-by-step tutorial for this how Friendship card ideas make an art project. We will make this easy and simple friendship day scroll card in 7 simple steps. So what are we waiting for let us begins:
First, Take A4 size colored paper. Let the kids select the favorite color of their friend for this note. We have taken blue color here.
Start writing cute and short friendship day quotes. If the kids are small you can even give a template of printed quotes to stick or even they can trace over. The quotes used by us on the card are:  Thank you for everything! and Best Friends Forever! You can use these cute notes for friends.
After you are done with the quotes. Even the toddlers instead of writing quotes can draw a cute picture of their friend with them holding a gift or with a heart emotion.
Take another A4 size sheet and start rolling in the form of a scroll. You can guide them through to make a roll. Even they can take the help of their friends to roll around. Kids can play with this role and look through it with some fun play.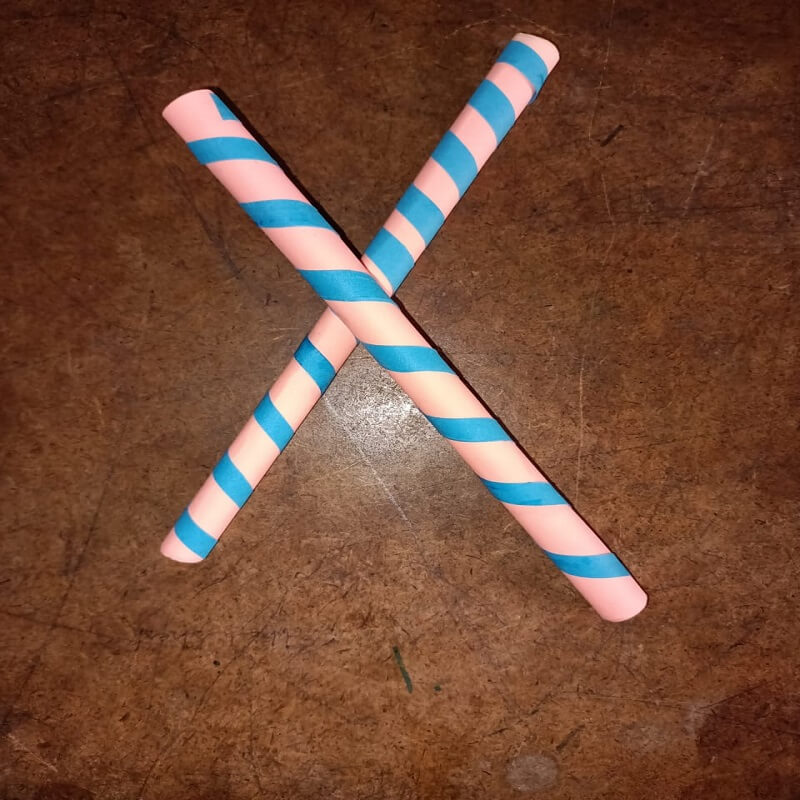 Next, you can cut the strips of paper of contrast color to stick in a spiral manner on the roll made.
Finally, stick it over to the friendship day card.
Lastly, Assemble all the parts and glue them up and tie them using the ribbon or thread. You can even fix a heart or a bow on the ribbon. And your Friendship day card is all ready!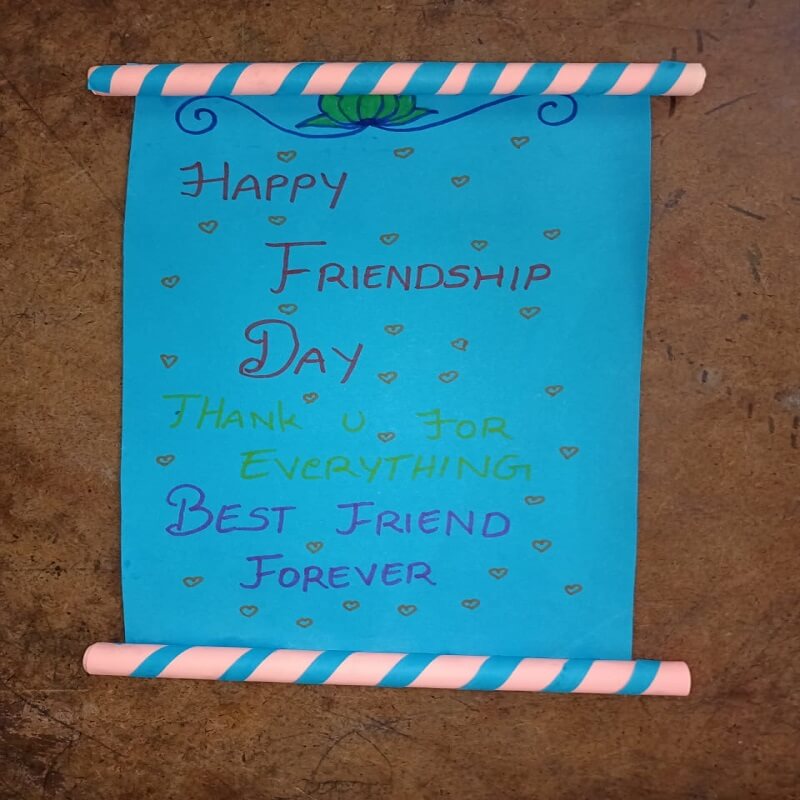 Happy Friendship Day!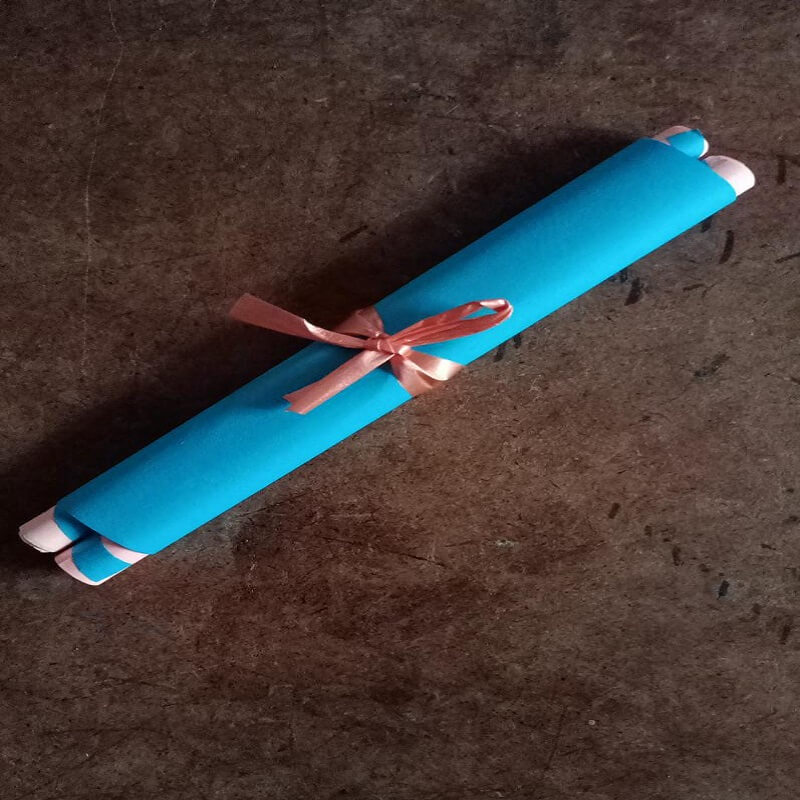 I hope you all will definitely try this simple art project with your little ones with minimum requirements. I am glad to share friendship card pictures. This simple DIY easy gift is ready to make at home without much effort. For details please follow the video above for more clarification on this easy art project. I hope you are part of our amazing group ColourCraze and Love Is Play-Based Learning to stay tuned with our latest posts and videos.
You might be interested in the following Crafts :
Pin these Friendship card ideas
This is a perfect card for a friend. Don't forget to save this easy art for toddlers on Pinterest for later! Be sure you are following along with Tinydale here
Tinydale is on YouTube, Click here to subscribe for the latest videos and updates.