What is US Teacher Appreciation Week?  –Teachers are the essential resources of any nation who can create knowledgeable, innovative, and thoughtful brains for the country. They are the ladders of every student and help them to climb up in their life. Teachers are the most respectful professionals who will guide and mold children on a positive and successful path. They are the creators of the future generation. In the US, to honor and appreciate the teachers, they are celebrating the US teacher appreciation week in the first full week of May since 1985. When is teacher appreciation week? This year it was celebrated from May 2, 2022, to May 6, 2022. Every year it is celebrated after the first Sunday of May through the week from Monday to Friday. The big day in this celebration week is Tuesday which is observed as the Teacher Appreciation Day, also known as Teacher Day.
History Of US Teacher Appreciation
Confucius was the first private teacher in history and his period was 561BC. He was one of the most educated men of all time. The teaching profession began to evolve after the 19th century when politicians believed that education is important for the nation's development. The need for teachers has increased.
In 1944, an Arkansas school teacher Mattye White Woodridge demanded for a day to appreciate teachers in written format to politicians and educational professionals. Than,In 1953, Eleanor Roosevelt convinced the 81st congress to adopt the teacher appreciation week. In 1980, congress officially announced March 7 as the Teacher's day, which continued till 1985. After that, the assembly transformed the single-day celebration into the full first week of May.
How will US People Observe This Week?
Present Gift To Teacher
They will get suggestions from the associations like National PTA to gift the teachers. They also provide fun printable thank you notes and flyers. Honor the teachers with some gift ideas like gift cards, donations, baked goods, and classroom decorating, and thank them through the hashtag #ThankATeacher
Remember Old Teacher
Everyone has one of the teachers their favorite and loves them very much. Visiting the old teacher in the same school and surprising them or adding them to social media is a great way to honor them.
Donate To Teachers
People in the US honor their teachers by donating funds or school supplies. Some organizations include Donors choose, Fund for Teachers, and the National Education Association Foundation allowing individuals to contribute to schools and school projects.
Why do we love teacher's day or teacher appreciation week? Teachers are unforgettable persons in all life. They shape our lives through their knowledge. There is at least one teacher in everyone's life.
They are hardworking and more dedicated to their work. Teachers are working countless hours for their students in school and also in their homes.
To such appreciable teachers and schools, we can give back by donating funds or material supplies. It can spend to the students coming further.
Do let us know in the comment box below if you have any teacher appreciation gifts ideas. So what are we waiting for? Are you excited to make a teacher appreciation card for your beloved Teacher and surprise them on this beautiful day!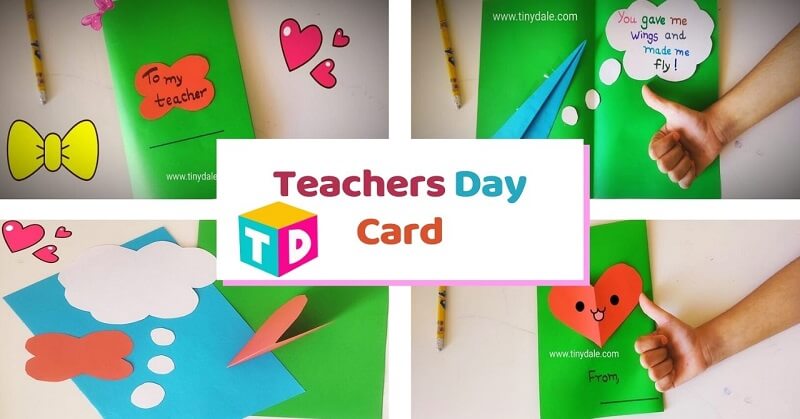 Follow Us: Facebook | Instagram | Twitter | Youtube | Pinterest
Tinydale is on YouTube, Click here to subscribe for the latest videos and updates.