Fall is the right season for the fun with pumpkins. Previously we did fun fall tree art in the fall lesson. We are again at Tinydale to do 5+ Easy Pumpkin Craft Ideas for kids of all ages! That is not only free but engaging and fun with minimal supplies and requirements.
As Halloween 2022 round the corner don't forget to watch this fun-filled This is why Halloween is going viral in 2022!
A Fact about Pumpkin:
Oh Yes! Pumpkin is a Fruit!
These ideas are amazing examples of Pumpkin crafts for preschool. I have come up with amazing ideas for pumpkin crafts for toddlers and fall crafts.
Before that Don't forget to
Follow Us: Facebook | Instagram | Twitter | Youtube | Pinterest
Materials For Pumpkin Craft
Let us begin with this pumpkin craft one by one in detail. Before that, the best part is you can prepare these pumpkin crafts with minimum and common materials such as:
Colored paper
Pencil
Colour pens
Safety scissor
Glue.
So, Let us learn step by step tutorial of all the pumpkin craft In detail:
1. Pumpkin bookmark craft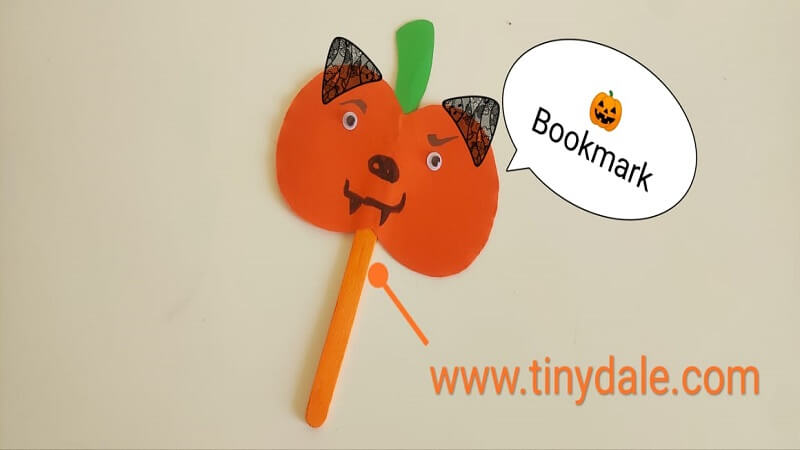 Take an orange colored paper.
Start cutting in the shape of a pumpkin, Small kids can take a free printable to cur out using safety scissors.
Lets kids set free to make the face and emotions of their own choice. We did explaining the scary emotion and our kids love to express the scary emotion and depict it on the fun scary pumpkin bookmark.
You can add a green stem with the green color. Alternatively, you can color it green using crayons or pencil colors.
Lastly, we attached an Orange popsicle stick to our scary pumpkin and our bookmark is all ready! You can check Superhero Popsicles Stick crafts here.
2. Scary Pumpkin Train Craft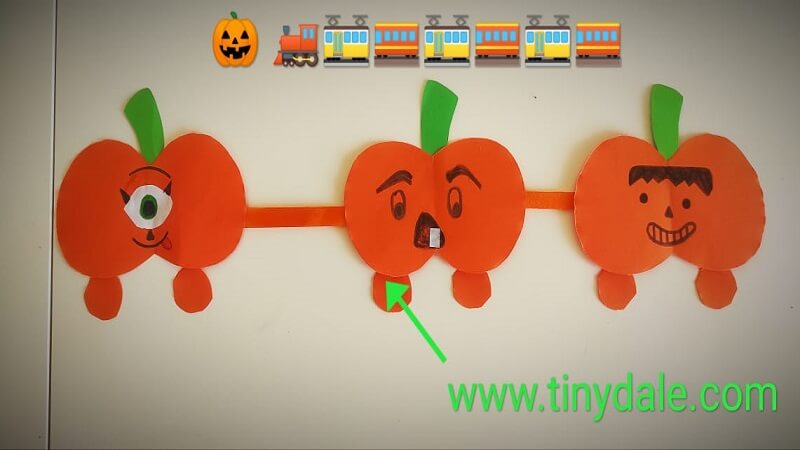 Step 1 – We will trace and cut cute pumpkins with orange colors. Alternatively, Kids can color orange color and stick stem which is in green color using green paper.
Step 2 – Let kids draw cute yet scary faces on each pumpkin. Tell the kids to number the pumpkins on the train. They will start numbering and simultaneously it is a fun way to recall counting for kids.
Step 3 –  Ask kids to fix the wheels. You can start asking what is the shape of the wheels. Here we can relate the wh words for kids lesson plans. And yes you can cut the circles out to make the wheel you can use orange, green, or black colors to make wheels of the pumpkin train.
Step 4 – Start fixing wheels to the train. Next, You can join one pumpkin to another using a simple popsicle stick or a paper cour out or a thread.
Hey! wow our super scary pumpkin train is all set to have fun with kids!
3.  Pumpkin wall hanging – Pumpkin craft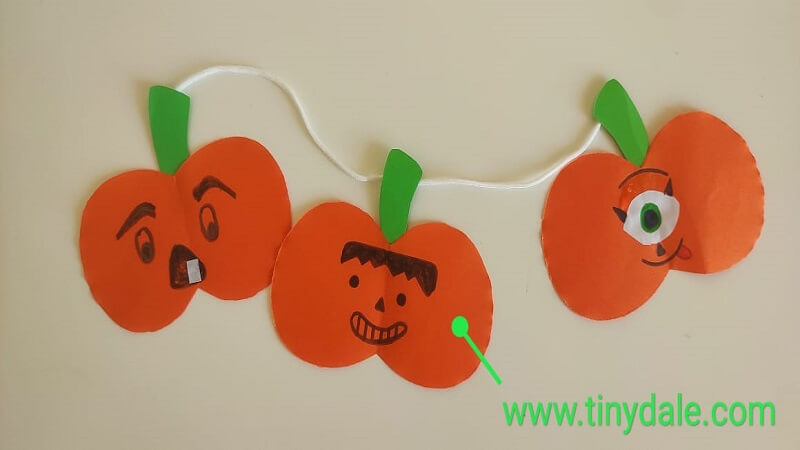 Firstly, We can cut out cute little pumpkins on the orange paper. Does it totally depend on How long do you want? What is the size of your door? If you are sticking on the door. It is an amazing craft for the fall theme party at preschool. It looks amazing as fall decorations.
Secondly, Start making scary faces using black markers and you can even stick white eyes and teeth onto the pumpkin face to give a devil look.
Thirdly attach the green stem with green paper.
Fourthly, Start fixing the tiny pumpkins on the thread or a ribbon which we can use in fall theme parties as wall decor or classroom door decoration.
Lastly, Our pumpkin wall hanging is all set to add stars to the fall theme party.
4. Tiny Pumpkin bag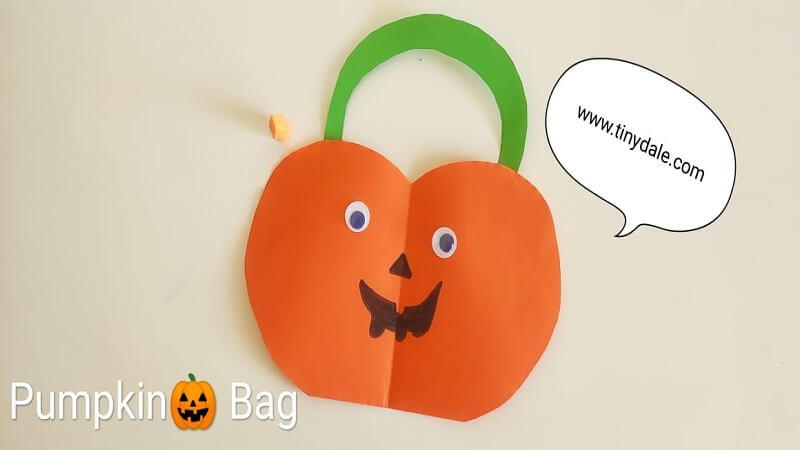 Who doesn't love bags? Yes all of us do? So here we are to make a cute pumpkin bag. This is an amazing art project of a pumpkin-shaped purse for big kids. You can even try with teenagers.
Trace a giant pumpkin on a4 size orange stock paper. Alternatively, you can try paper plate pumpkin craft by combining two paper plates joining them and coloring in the color of the pumpkin.
Start cutting from all the 3 sides and let it be joined on one side. Start fixing the 3 sides using the shape of a bag with an open in the top.
You can start making the sling now. We made a sling with green paper. You can even use black to give a scary look. You can adjust the size as per kids' age.
Here we used googly eyes to make eyes. Let the kids draw emotions accordingly and a scary mouth. And our cute little pumpkin bag is all ready!
5. Pumpkin Lantern – Pumpkin Craft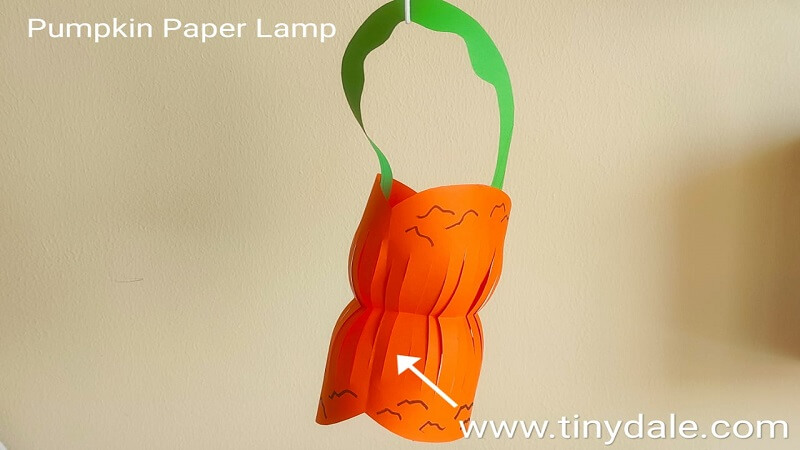 This craft idea involves a lot of scissor work. Kids over to cut. It improves and strengthens fine motor skills. Alternatively, you can try toilet paper pumpkin craft. Make sure to use safety scissors with kids.
Big kids can try origami Jack o'Lantern with fun science experiments.
Simply trace the giant pumpkin and cut it out. Then make starting vertical lines with scale. Let the kids cut through the lines in a straightforward manner. You can always guide them through.
Unfold and fix the two ends of the pumpkin and our lantern is almost ready to make the holder we used green color paper which is the part we hold. You can even use a thread. We did minimum decoration using zigzag wiggly wobbly lines using a black pen. And your super pumpkin lantern is ready.
Happy pumpkin!
I am sure you will definitely try these amazing craft ideas with your kids. And for sure they are going to love it. These cute and easy craft projects are perfect to do on the occasion of fall celebration or Halloween. I am sure you are part of our amazing group ColourCraze and Love Is Play-Based Learning to stay tuned with our latest posts and videos.
Pin this Pumpkin Crafts!
Don't forget to save this easy art for toddlers on Pinterest for later! Be sure you are following along with Tinydale here
You might also be interested in learning easy fall tree art with an easy step to step guide with the video below:
Tinydale is on YouTube, Click here to subscribe for the latest videos and updates.