If you are buying toys for your kids it should have some purpose. If it is a learning toy it is helpful in driving and improving the skills of your kids. One of these toys having such a purpose is the melissa and doug wooden blocks set. It is designed for kids aged above 3 and is ideal for building and introducing early math concepts. This classic creative toy is useful for educational activities to improve the skills of kids.
About Melissa And Doug Wooden Blocks Set
This classic Melissa and Doug wooden block set consists of 100 solid wood blocks and comes in 4 different colors and nine shapes. The four colors are red, blue, yellow, and green. The blocks are in different shapes and size like rectangular prisms, cylinders, arches, cubes, half-circles, different size rectangular planks, and triangles.
The children can play and pass their hours with these wooden blocks by constructing different structures of towers, buildings, castles, towns, and more. It does not just offer the opportunity to play and pass the time; It also gives the opportunity to practice their fine motor skills and can work with different physics laws.
The features like lightweight, rounded edges and a smooth finish provide safe play and sustain without any damage. It is easy to pick by 3 years and above age builder as their inches ranges from 1 to 2.25 inch. Kids can gain different skills like fine motor skills and dexterity, color and shape recognition, and pre-math skills while playing with colorful blocks.
10+ Benefits Of Playing With Blocks
Grasp Development- When the kids started picking up the blocks with their hands the grasp development started. When picking up and placing blocks on stacks their grasp development starts to develop from a gross grasp to a tip-to-tip grasp.
Gaining Control Over Motor Skills- Progressing through the grasp development they attain control over motor skills during which their movement is stable and precise. They can pick the block and place it on a stock without knocking the entire structure or tower.
Develop Eye-Hand Coordination- The eye-hand coordination begins to develop when babies try to pick the block on seeing it. Playing with blocks like stacking, block building, and making towers are powerful tools that help in developing eye-hand coordination skills.
Develop Bilateral Coordination- Bilateral coordination skills help the baby to use one of his hands to hold the block from not getting collapse while the other hand removes the block from the stack. Another example of bilateral coordination is cutting paper with scissors which is when the non-dominant hand holding and manipulates the paper and the other one cutting with scissors.
Develop Motor planning Skills- Motor Planning is the physical action that has to take to execute the idea with proper organization. Blocks building helps the kids to gain these sub-skills while trying to build towers with blocks.
Melissa & Doug blocks help in Problem-solving
Visual prompt
Spatial awareness
Cause and effect
Melissa doug blocks help in developing Math skills
Manipulation
Depth perception
Melissa & doug wooden blocks help in developing Literacy skills
Different Games With Melissa And Doug Wooden Blocks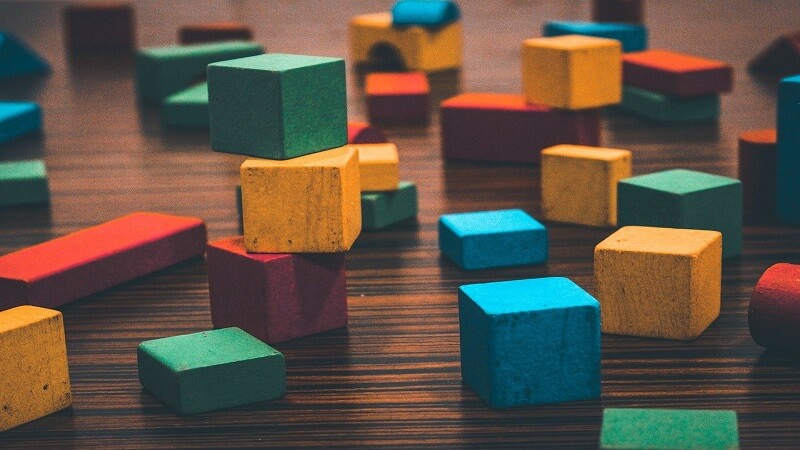 Stacking and knocking down the blocks help the kids to develop the essential skills. Find the different ways to play and make your child engaging and fun filling.
Help the kids to know the color and sort out the blocks according to the color.
Help the kids in counting based on color or shape.
You can challenge the kids to build the structure without the same color touching each other.
Ask the kids to find the color misses in the blocks. You must show them the complete blocks before removing the one.
You can challenge the kids to build the tallest structure.
Ask the kids to build a small bridge or animal figures.
You can ask them to sort the blocks based on shape or color and arrange them into piles. If you are curious to know more about wooden blocks for kids.
Like these, you can try different ways to play and fire their imaginative power. Building structures with wooden blocks is one of the best ways to develop the essential skills in your kids. Are you excited to buy melissa and doug 100 wooden blocks? If you like our review do give a thumbs up and feel free to share with your near and dear ones! And don't forget to follow us on the following social media platforms:
Follow Us: Facebook | Instagram | Twitter | Youtube | Pinterest
Tinydale is on YouTube, Click here to subscribe for the latest videos and updates.