Being a celeb mom, Kajol is one of our favorite moms to ask out about parenting tips. Kajol and Ajay Devgan have 2 kids, a daughter named Nysa Devgan and a son named Yug Devgan. Both the kids are well raised, which automatically makes Kajol and Ajay the set example of being great parents.
View this post on Instagram
Parenting Tips By Kajol And Ajay Devgan
According to recent interviews, Kajol has revealed five amazing parenting tips that are really useful for all moms.
Telling Kids About The Importance of Hygiene
When it comes to health and hygiene, Kajol has left nothing behind. She has taught her kids very well about health and hygiene and the importance of staying hygienic. Kajol firmly believes that regular hand washing is the best way to avoid diseases and infections and has accordingly taught her kids to wash hands very frequently. It is necessary to keep hands clean in a pandemic and use hand sanitizers to stay safe and secure.
Avoiding Aerated Drinks
Kajol also revealed that no member of her family consumes aerated drinks. For her and her kids, it's a strict No! She really wants her children to pick up healthy and good eating habits. This is how she encourages her children to eat healthy food and not junk.
Encouraging Healthy Eating Habits By Kajol
Kajol believes in encouraging healthy habits and immunity boosters in her kids, but she also knows that a rigid plan or routine never works for kids. She has encouraged healthy yet flexible eating habits in her kids, keeping that very fact in mind. She said that she makes her kids have healthy food regularly a week, and then on weekends, they order whatever they want, like the weekend is a cheat day.
Helping Children Become Honest And Kind – By Kajol And Ajay Devgan
Kajol has always inculcated the spirit of speaking the truth in her kids. She believes that honesty is what makes a relationship between a mother and her kids strong. Both her kids are pretty honest with her. Being kids, the little white lies are obvious, and Kajol understands it, yet encourages honesty in her children. She understands the feeling of anger, tantrums, and anxiety of her children wisely and addresses them.
Kajol Teaching The Importance And Power Of Love
Kajol believes that love is always there in the little things that the kids do. Also, she has said that she is a stricter parent, yet her kids love her, and it shows in the little things they do. She said that her son hugs her tightly at night, and her daughter keeps an eye on her and gives her space whenever she needs it!
View this post on Instagram
Pros & Cons Of Being A Celebrity Parent
Kajol has clearly said in her interviews that she and Ajay Devgan, together, as parents, are a good team. With both of them being well-known actors in the B-Town, parenting may have turned them into becoming the 'Helicopter parents.' However, Kajol is partly controlling, but Ajay is a bit overprotective of their children. Along with this, they sometimes tend to interfere in their children's life to know what exactly is going on. Being a helicopter parent has both its pros and cons.
Pros Of Being a Celebrity Parent
Cons Of Being a Celebrity Parent
Children wouldn't become independent.

They'll always go on as their parents want them to.

They would be scared to follow their dreams and make their own decisions.

They might even turn into a rebel against their parents.
Balancing Professional & Personal Life: Being a Mother-Kajol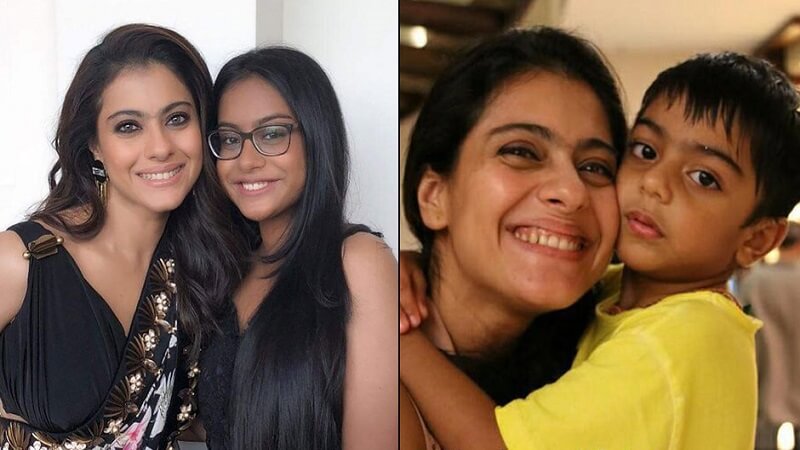 From her own experience as a celeb's kid, she reveals that she used to feel upset when her mom Tanuja used to go out for work and leave her behind at home. From this, she also opened up about the guilt she feels after leaving for work. Being a working mom is hard. She is trying to maintain the work and home life balance by spending all her leisure time with her kids, learning from them about their habits, etc. Her kids have always been open to her about the things they feel about her being a working mom. Also, she learns from her mistakes and tries to maintain a better balance.
View this post on Instagram
How is Ajay Devgan as a Parent?
Furthermore, in her interviews, Kajol has said that Ajay is a bit of a lenient parent. As a team, they usually handle parenting challenges by playing the 'good cop bad cop,' and Ajay is usually the good cop. However, Ajay Devgan also realizes that he can't always be a good cop, so sometimes it's the other way around.
View this post on Instagram
Ajay Devgan is a parent who wants to know everything that is happening in the lives of his kids. According to Kajol, He is a Helicopter parent and isn't very chilled out when it comes to knowing about his children's whereabouts. Along with this, Ajay Devgan is a very loving and caring parent. He loves his children and his own family way too much!
Tinydale is on YouTube. Click here to subscribe for the latest videos and updates.