Hello Freinds! Previously we have come up with the Ocean craft for kids which our kids just enjoyed doing to the fullest we even related it to the theme of 2022. In this Blog, we are here with something very much related to the ocean. A creature that is one of the favorite sea animals for kids and is adventurous and strange. It attracts a lot due to its characteristics and 8 legs.No more riddles you guessed it right it is Octopus! We are here with the amazing yet simple 3D octopus craft for kids in 5 simple steps.
Before that please don't forget to 
Follow Us: Facebook | Instagram | Twitter | Youtube | Pinterest
5 Fun Facts Of Octopus
 large heads
sucker-covered tentacles
deadly ink
camouflage abilities
amazing intelligence
Supplies To Make 3D Octopus Craft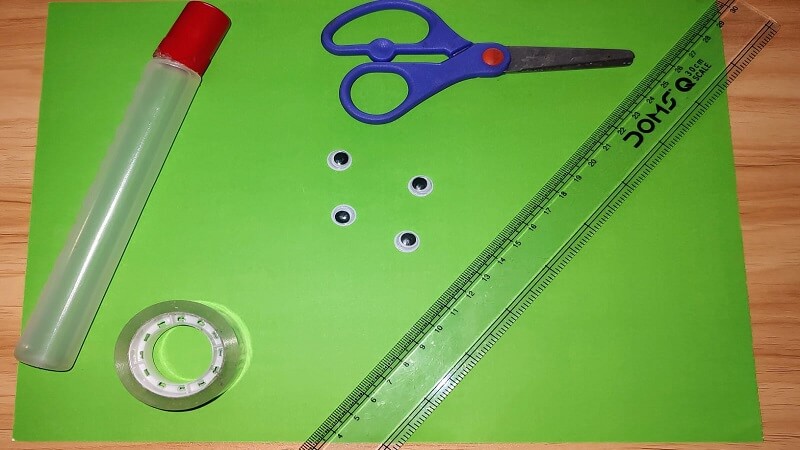 Paper of any color
Pencil
Scotch Tape
Glue
Googly Eyes
Scissors.
Step By Step Tutorial To Make Octopus Craft
Take A4 size paper. Here we have taken green paper. You can take the color of your choice.MAke mark of 1ch strips on the paper for 10 strips.
With the help of a ruler cut the strips 1cm wide which are 10 in number. If you cannot cut with the help of a ruler cut it using child-safe scissors. Or it is always better to take the help of an adult. Next step you have to make 8 legs which can be wiggly or wobbly you can draw a free drawing shape of it and cut it. This should be 8 in number.
In the next step as shown in the picture, you have to take cut a circle and start fixing the strips cut in the circular form and fix it using flue in the center. The same way you have to attach all the ends of the strips at the top making the shape of the sphere to make the large heads that are spherical in shape.
Once the head part is done. In the down bottom part start fixing the 8 tentacles you have cut before in the circular form as shown in the image and the 3D octopus is almost ready.
Next in the last step, you have to fix the googly eyes, and to give a cute look we even made a cute little crown and made King octopus of the Ocean! (To make the crown you can take the help of the tutorial below).
Happy Octopus Quotes!
We will wind up this amazing 3D octopus craft with the worth quote vy oceanographer:
"No water, no life. No blue, no green."

– Sylvia Earle, Oceanographer
If you are interested in more fish and Aquarium crafts with waste tissue boxes you can check the link. I hope you will; also try to follow this initiative with us by tagging us on your initiative with #tinydale. Till then keep learning!You can even plan octopus activity after this task.
Pin this Craft!
Don't forget to save this easy 3D Octopus craft for kids on Pinterest for later! Be sure you are following along with Tinydale here
Tinydale is on YouTube, Click here to subscribe for the latest videos and updates.