On August 22, 2021, the country celebrated Raksha Bandhan, or "the thread of Rakhi," which symbolizes the vow of protection, love, and care that siblings make to one another. We all are excited to know How Sunny leone kids celebrated Raksha Bandhan with their siblings. However, meeting cousins, playing, flying kites, and making the most of the day are still top priorities for the kids.
Here we are to have a look at one of the most popular Bollywood celebrity kids. Bollywood's most famous actress Sunny Leone and Daniel Weber's home gave their fans a few glimpses of a Raksha Bandhan filled with love.
Sunny Leone and her husband Daniel Weber have a lovely family of three children, and their Rakhi celebrations demonstrated how gorgeous they are.
Nisha Singh Weber, their eldest, tied rakhis to her toddler siblings, Asher and Noah, for the prettiest photos. The adorable tiny kids wore traditional Indian outfits and were all smiles with their parents, brightening social media platforms as Instagram feeds with their kindness.
The diva shared images from their home party with her husband Daniel Weber and their twin sons, Nisha and Noah and Asher. Check out the amazing image of Sunny leone kids celebrating Raksha Bandhan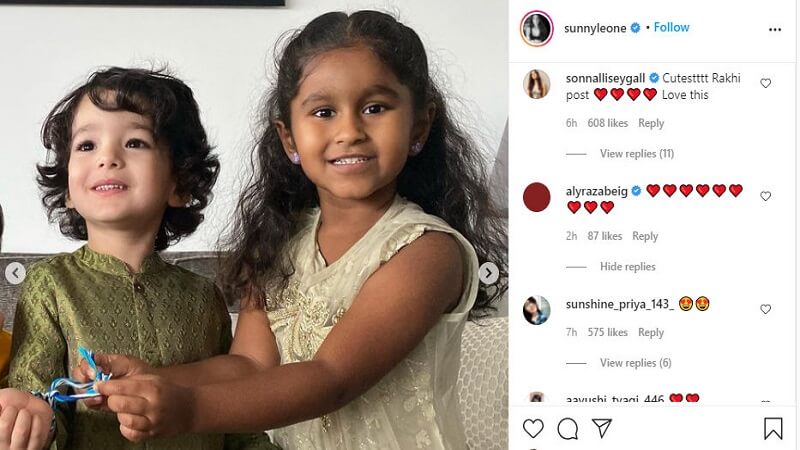 Sunny also wore rakhis to show her love for her chosen family, including her stylist Hitendra Kapopara, makeup artist Tomas Moucka, and security head Yusuf Ibrahim.
But for their fans, watching her two joyful children together made their Rakhi day more blissful!
Are you getting excited to see her images from her Rakhi celebrations? Visit Sunny Leone's Instagram account (Instagram.com/sunnyleone) to see a collection of photos from her Rakhi 2021 celebrations with her family and friends.