Are you ready for a colorful and easy craft to try this summer with your kids? This craft is suitable for kids of all ages. Here we are at tinydale on How to make hot air balloon craft in 5 easy steps for Kids? You can even try this easy kids' craft with your toddlers and hot air balloon craft preschool. Teachers can use these hot air balloon DIY decorations for fun summer party themes at school as wall hangings. We have researched a lot and came up with simplified hot air balloon craft ideas. I hope you will enjoy it and don't forget to :
Follow Us: Facebook | Instagram | Twitter | Youtube | Pinterest
These hot air balloon art and craft is easy for preschoolers and kindergartners. Here is a surprise for you all we are going to make 3d hot air balloon craft. Children will definitely love the color and the 3D effect of this craft. Let children first start with a hot air balloon drawing on a rough paper maybe to get familiar with the art. As children love balloons. This will prove to be an amazing example of balloon crafts.
Materials for Hot air balloon Craft
For this amazing and easy craft for kids, we require minimal materials such as:
Colored paper
Cardboard cut out
Straw or thread
Pencil
Safety scissor
Glue
And you are all set to begin balloon crafts!
Instructions to make hot air balloon Craft
Take a look at the first step by step tutorial for this how to make a hot air balloon with a papercraft project:
Step 1
First, we will take a plain colored A4 size paper to use as a base. Kids can use the color of their choice. But let them learn the color of the sky and use it accordingly as it flies in the sky. You can use colors such as Blue, white, yellow, orange. In this craft project, we have used an Orange color.
Step 2 
Secondly, Let the kids cut the circles of 4 colors. They can use any color of their choice. The colors I have used are pink, yellow, green, and blue. For toddlers, you can simply trace the circles of different sizes and guide them to cut through using safety scissors. Alternatively, you can cut semicircle and join to make a circle. Once our circles are ready.
Step 3 
Thirdly, We will start sticking with the help of glue in the descending order of their choice. We will start by fixing the biggest circle at the bottom to the smallest in the last. Once done gluing the circles. Our hot air balloon is ready. As we are sticking one over the other it will give a 3D effect.
Step 4
Fourthly, We will start with the basket part which holds the people and let us fly in the air. You can simply cut out the basket shape. To give a real look we used the old waste cartoon which is brown In color. You can even use normal white paper and color it brown.
Step 5
Lastly, We will join the ballon with the basket with the help of a straw. Alternately You can also use a thread or a paper string. And our paper ballon is already. For the decorations, we used some white clouds and a sun cutout. But that is completely optional. For big kids in art, the lesson Teacher can ask the mechanism behind the hot air balloon?
Happy Easy Crafting!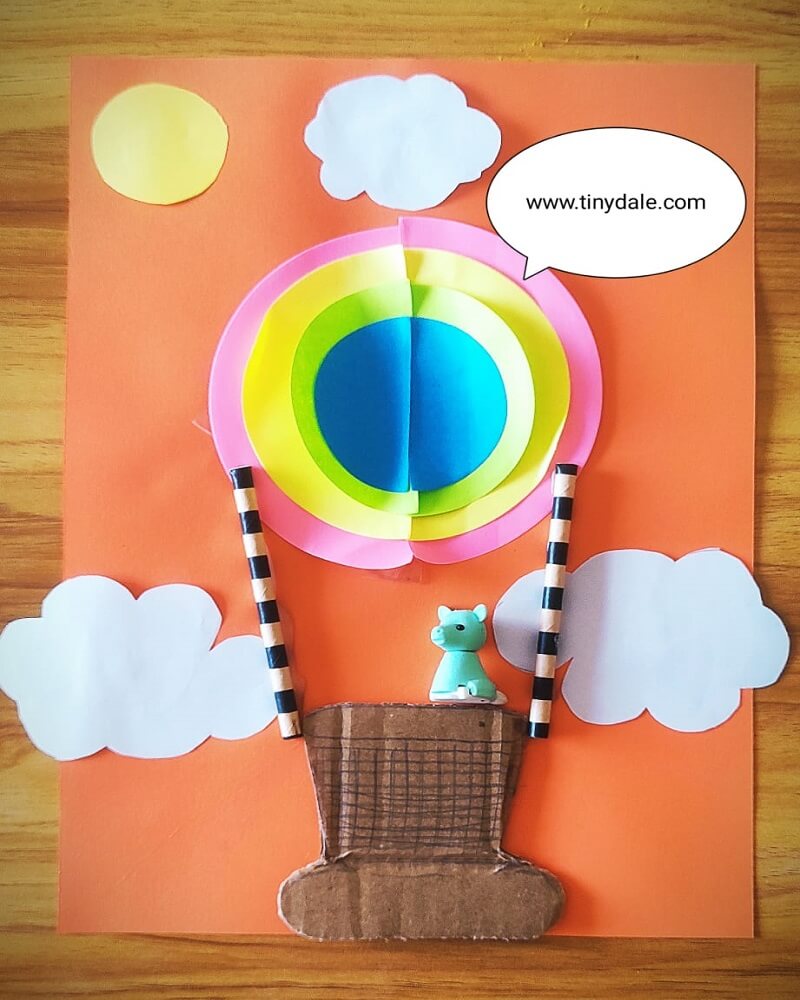 For a detailed tutorial, you can have a look at the video above to follow. So, This is how we prepared hot air balloon DIY decorations which can be used in bulletin boards, hangings.
I hope you all will definitely try this simple art project with your little ones with minimum requirements. For details please follow the video above for more clarification on this easy art project. I hope you are part of our amazing group ColourCraze and Love Is Play-Based Learning to stay tuned with our latest posts and videos.
You might be interested in the following Crafts :
Pin It Here!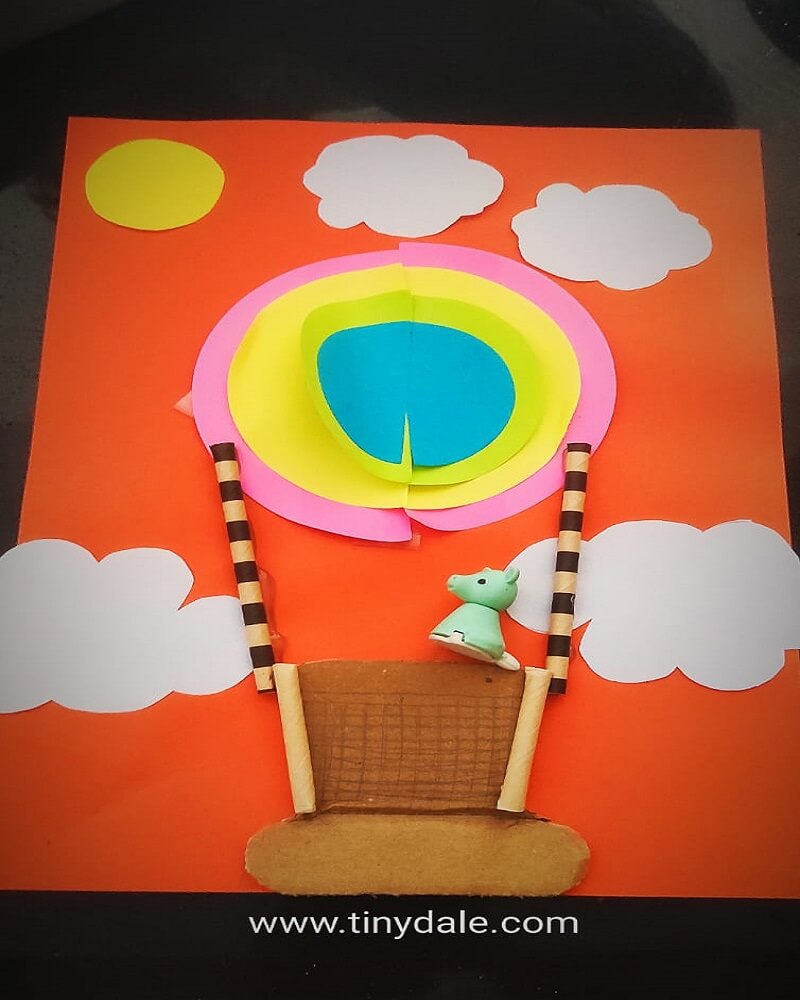 Don't forget to save this easy art for kids on Pinterest for later! Be sure you are following along with Tinydale here
Tinydale is on YouTube, Click here to subscribe for the latest videos and updates.