Toy guns especially Nerf Guns have been loved by children, providing endless hours of imaginative and active play for children 5 years and above. From friendly battles with friends to epic solo missions, these guns offer exciting adventures.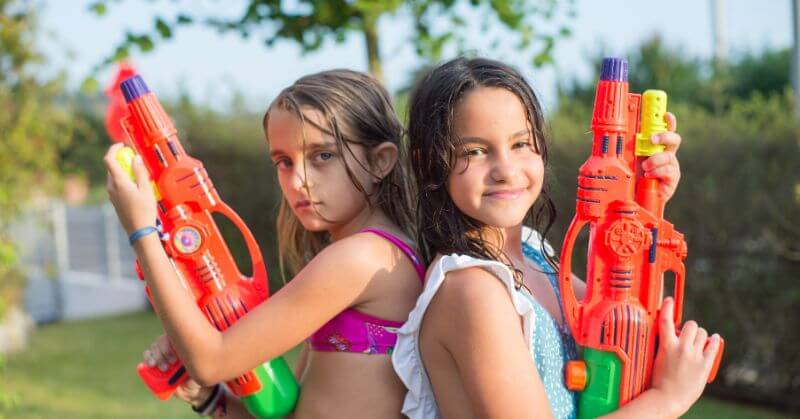 Choosing Nerf guns for your child can be challenging, with many options available. This comprehensive guide will explore the top suitable options for both children and teens.
Nerf Guns for Children Aged 5+
For younger children, there are plenty of Nerf Guns available for simplicity, safety, and ease of use. These guns are designed with lightweight materials and feature straightforward mechanisms, making them suitable for small hands.
Nerf N-Strike Elite Disruptor
It is a great entry-level gun with easy dart loading and firing. It features a rotating drum that holds six darts and fires them in quick succession. With simple slide action, children can prime the blaster and unleash their darts with impressive accuracy. The Disruptor promotes hand-eye coordination and introduces children to the exciting world of Nerf battles.
Nerf N-Strike Elite Triad EX-3
It is a compact, portable gun perfect for younger children. It features a three-dart capacity and an intelligent design that automatically rotates the barrels when priming. The Triad EX-3 encourages quick reflexes and target accuracy while maintaining a user-friendly experience. Its small size and lightweight nature make it easy for children to handle and carry during play.
Intermediate-Level Guns for Children Aged 8+ – Nerf Guns
As children grow older and develop more advanced motor skills, they can graduate to intermediate-level Nerf guns that offer enhanced features and performance.
Nerf N-Strike Elite Delta Trooper
It is a versatile blaster with customization options for various play styles. It features a removable stock and barrel extension, allowing children to modify the blaster. The Delta Trooper also has a 12-dart clip and slam-fire action, enabling rapid firing during intense battles. With its adjustable features and increased dart capacity, this blaster provides an exciting upgrade for older children ready for more action-packed adventures.
Nerf Rival Apollo XV-700
For children seeking a more intense experience, the Nerf Rival Apollo XV-700 offers a high-impact, fast-paced battle experience. This blaster shoots foam balls at high velocities and features a spring-action mechanism for quick reloading.
The Apollo XV-700 promotes strategic gameplay and accuracy, adding a competitive element to Nerf battles. Its durability and performance make it a fantastic choice for older children looking for a more thrilling gun option.
Advanced-Level Nerf Guns for Children Aged 14+ 
Advanced-level guns provide a heightened performance and excitement for older kids or those who have mastered the art of Nerf battles. 
Nerf N-Strike Elite RapidStrike CS-18
It is a fully automatic Nerf blaster with rapid-fire action and impressive dart capacity. With its motorized firing mechanism, the RapidStrike CS-18 unleashes a barrage of darts, allowing continuous and intense battles. This blaster is perfect for experienced players who enjoy fast-paced and dynamic gameplay. Its advanced features and exceptional firing speed make it a formidable weapon on the Nerf battlefield.
Nerf Rival Nemesis MXVII-10K
This advanced-level gun takes battles to the next level. It is a fully motorized Nerf blaster with up to 100 high-impact foam rounds in its easy-to-load hopper. The Nemesis MXVII-10K offers unmatched firepower and precision, allowing players to dominate the battlefield. With its rapid-fire capability and impressive ammunition capacity, this blaster is ideal for intense Nerf battles and competitive play.
Advantages of Purchasing from a Reputable Online Retailer – Nerf Guns
A reputable and trustworthy online retailer offers several advantages when purchasing toys for children. Reputable retailers provide a wide range of Nerf guns, ensuring you can find the perfect Nerf blaster for your child's age and skill level. They offer detailed product descriptions, specifications, and customer reviews, providing valuable insights that aid decision-making.
Moreover, reputable online retailers collaborate with trusted manufacturers, guaranteeing the authenticity and quality of the toys they sell. These retailers follow safety standards, ensuring that the toys meet all necessary regulations for child safety. 
Overall On Nerf Guns 
Selecting the best toy for your child involves considering their age, skill level, and desired level of play. From entry-level blasters for younger children to advanced-level guns for experienced players, Nerf guns offer a range of options to suit different ages and preferences. Purchasing from a reputable online retailer provides access to a wide selection of guns, detailed product information, and customer reviews, ensuring the blaster's authenticity, safety, and quality.
Tinydale is on YouTube, Click here to subscribe for the latest videos and updates.
Follow Us: Facebook | Instagram | Twitter | Youtube | Pinterest