Anushka Sharma and Virat Kohli was blessed with the Daughter Vamika on January 11, 2021. Anushka Sharma the popular Bollywood actress is often active on social media platforms. She keeps sharing her activity with fans on all social media handles. Recently, She shared a funny video clip during the shooting. This clip was admired by her fans. Celebrities had also commented on this clip of her reacting. Congratulating all the celebrity fans on Durga Ashtami on Wednesday. Anushka Sharma took to her Instagram handle to wish her fans on the occasion of Durgashtmi.
Don't Forget to Follow Us on:
Follow Us: Facebook | Instagram | Twitter | Youtube | Pinterest
Anushka has shared a candid photo with daughter Vamika. In this photo, Anushka is seen spreading her beautiful smile as usual, while Vamika's beautiful hair is attracting people a lot.
She shared a beautiful picture of the Mother-daughter duo on Instagram. She wrote in the caption that- "Making me bolder and more courageous every day. May my little Vamika always get the power of the Goddess. Happy Ashtami."
View this post on Instagram

Actress Mouni Roy, Ayushmann Khurrana's wife Tahira Kashyap have also commented on this post of Anushka. Everyone has expressed their love through heart emojis.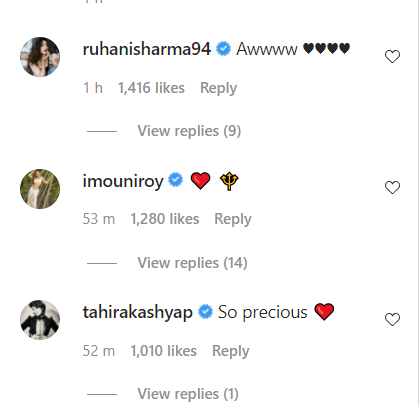 Anushka is often in discussion about her work. Talking about films or personal life, she completes her work in some creative way. Recently she has returned to Mumbai after finishing her shooting in the UK.  She recently posted a story about the pack-up on Instagram. In the picture, Anushka was observed painting the walls of the set with her team. The painting had "Pack Up" written between the emoticons.
Do you find this cute picture of cute little Vamika shared by her proud Mother Anushka Sharma on the occasion of Durgashtami? Do let us know in the comments below.
Also Read: Neha Dhupia Embrace Motherhood Ones Again Welcomes Babyboy!